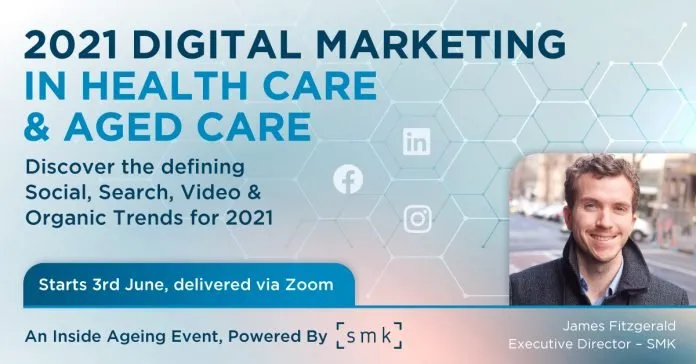 Inside Ageing's Digital Marketing in Healthcare and Aged Care masterclass series will lift the lid on how to discover, engage and retain prospective customers and how to differentiate your business in the process.
Specifically designed for the aged care and healthcare sectors (including not-for-profit), the series commencing June 3, 2021, will be led by SMK founder James Fitzgerald, who has trained thousands of marketing and communications professionals in using social media and marketing channels more effectively since 2010.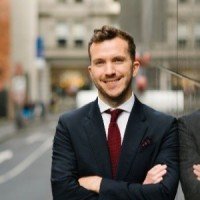 Go behind the scenes to understand the latest tools and techniques for building trust and positive sentiment around your business and managing customer acquisition at a time when aged care businesses, in particular, need to be on the front foot in managing a customer pipeline across community support, home care and residential aged care.
The importance of having this occupancy pipeline and starting it early is highlighted by Recommendation 25 in the Final Report delivered by the Aged Care Royal Commission that suggests by 1 July 2024: community support, home care and residential care should be grouped under a single needs-based program. Updated 13th May: The government has accepted-in-principle this recommendation in their response to the Aged Care Royal Commission's Final Report.
Each 90-minute online session will provide a highly engaging approach to mastering the subject, with a follow-up Q&A the next day hosted by Inside Ageing's publisher Sean McKeown. It is expected that participants will be able to take away actionable insights after each class to improve their business and deliver ROI.
Update May 3: We've had some common questions regarding the recordings of the sessions. Recordings of all sessions conducted over Zoom will be provided post-event for ongoing reference and learning. These recording will be made available with the option to download and retain permanently. Questions can be emailed to editor@insideageing.com.au or logged in the comment thread below.
Program
Maximising Engagement & Organic Reach in Social Media: 1 pm AEDT Thursday, June 3 and Q&A Friday, June 4
2021 social media algorithm updates
Maximising new and under-utilised organic features
Developing High Converting Social Advertising Campaigns: 1 pm AEDT Thursday, June 10 and Q&A Friday, June 11
How to turn social media "Likes" into dollars
Social ad strategies, balancing reach with action
New creative trends and copywriting best practices
Unlocking the Power of Google Search To Drive More Leads: 1 pm AEDT Thursday, June 17 and Q&A Friday, June 18
2021 search engine optimisation (SEO) trends
Attracting more local traffic with Google Maps & Google My Business
How to create high performing Google Ads
Navigating Online Threats, Risks & Protecting Reputation Online: 1 pm AEDT Thursday, June 24 and Q&A Friday, June 25
Building an engaged community & managing online risks
Managing daily outrage in the "Cancel Culture" age
Defamation in social media, user privacy and data protection
Tickets are priced at $1,295 plus GST, with an early bird offer of $995 plus GST until May 23, 2021
Book below of if you would prefer to be invoiced please email editor@insideageing.com.au
A Zoom registration link will be provided upon payment.
2021 Digital Marketing in Healthcare and Aged Care (early bird)