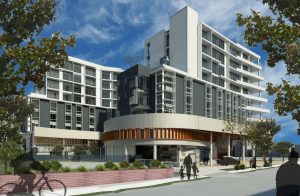 Jewish Care Victoria has approved its $85 million St Kilda Road Senior Living Precinct with the awarding of the construction contract to Watpac Limited.
Stage 1 of this two stage project will see the construction of a leading-edge aged care and community services precinct for the Jewish community of Victoria.
The 9-storey building will be named the Hannah & Daryl Cohen Family Building, in honour of the late Daryl Cohen, and will be located on the Punt Road side of the current Montefiore Homes site.
Jewish Care has occupied the historical site designated as Crown land sine 1848. During the latter months of 2016, Jewish Care successfully acquired the land from the Victorian State Government.
The Hannah & Daryl Cohen Family Building will accommodate 156 residential aged care beds over seven levels. An additional two levels will offer essential community, health and medical services, synagogue, gallery, as well as light retail spaces.
A three-tiered aged care product offering – Traditional, Classic and Choice– combined with Jewish Care's Hand-in-Hand model of care will meet the different requirements of the Jewish community and shape the way we see aged care in the future.
Jewish Care President Mike Debinski said it is a pivotal and exciting time in the organisation's 169 year history.
"In an environment of expansive changes in the aged and community care sectors, we believe this important and innovative undertaking will have a significant and long lasting positive impact on the lives of our clients and their families."
"We look forward to working closely with the team at Watpac who will help make our vision a reality."
Bill Appleby, Jewish Care CEO, said he was delighted after years of planning and negotiation that this state-of-the-art project is now commencing.
"This has been such an amazing collaborative effort by so many people over so many years. To see it finally come out of the ground will bring so much pride to the entire Jewish community."
Construction will commence on site in the coming weeks. Expected completion is mid-2019.