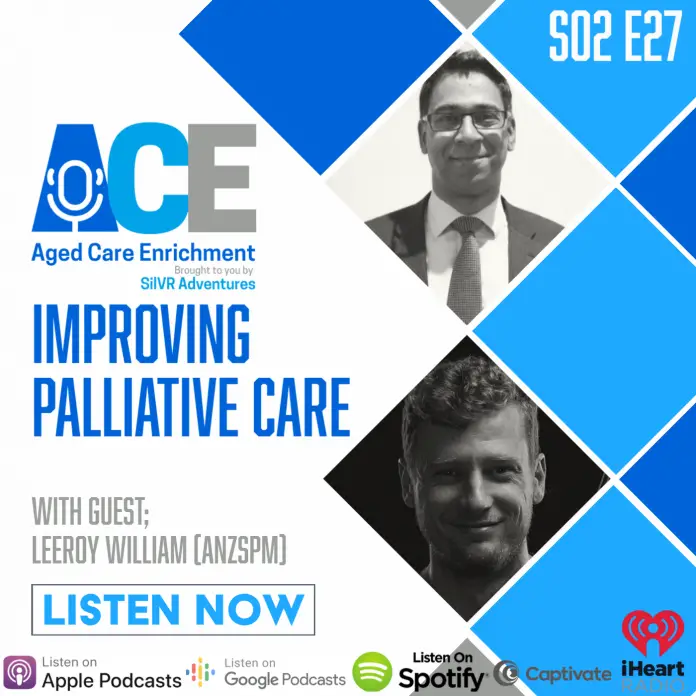 Our next episode is all about Palliative Care, and we're very lucky to be joined by Leeroy William to help us unpack this complex area.

Leeroy is the President of the Australian and New Zealand Society of Palliative Medicine. He's also an Adjunct Clinical Professor at the University of Monash and Clinical Director of supportive and Palliative Care at Eastern Health in Melbourne.
He came on the show to help us understand the scope of palliative care, and how it encompasses much more than just care in the final moments of someone's life.

For a lot of our listeners working in the aged care space, death and end of life are common scenarios and in this interview, Leeroy shares with us a few tools to help support people better as they're approaching the end of their lives.
We're also very excited to let you know that Leeroy has recently joined the SilVR Adventures' Board of Advisors and is helping with our plans to bring the benefits of Virtual Reality to people in palliative care.

As always if you enjoy the show, we'd love it if you subscribed and maybe even left a review!
The Aged Care Enrichment Podcast is proudly brought to you by SilVR Adventures. Subscribe and check out our back catalogue of available episodes on Apple Podcasts, Spotify, iHeartRadio or wherever you get your podcasts from or online here:https://silvradventures.com.au/podcast/