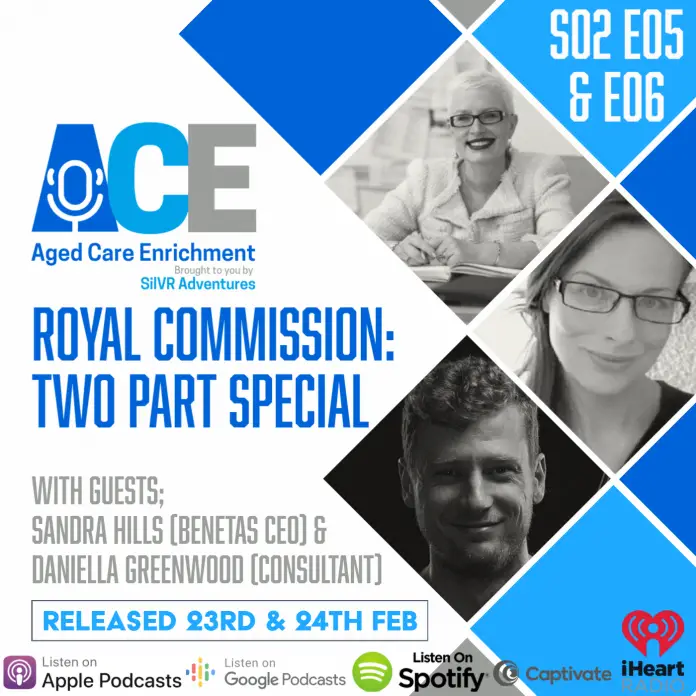 A huge week ahead for the Aged Care Industry with the release of the Royal Commission's final report and the Aged Care Enrichment Podcast will be releasing TWO episodes on the commission and expected findings, featuring two prominent industry leaders
Part One will be released on Tuesday 23rd of Feb featuring Daniella Greenwood, who advised the Royal Commission on issues of technology and innovation. This episode examines the commitment of the Royal Commission to reframe aged care governance through a human rights lens and the role that government must play in driving change.
Part Two will be released the following day, on Wednesday 24th of Feb with Sandra Hills OAM. As the CEO of Benetas and a Director of the Aged Care Industry Workforce Council, Sandra speaks at length on the work that providers, peak bodies and frontline carers can do to affect change – with or without government support.
The Aged Care Enrichment Podcast is proudly brought to you by SilVR Adventures and available on Apple Podcasts, Spotify, iHeartRadio or wherever you get your podcasts from or listen online here: https://ace-aged-care-enrichm.captivate.fm
Listen, Subscribe, Share.