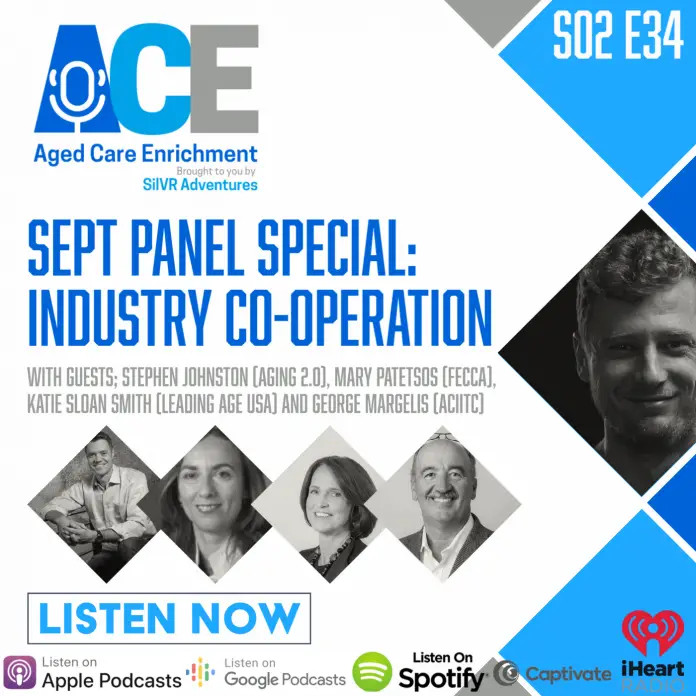 In our next episode, we feature a panel of industry leaders from peak bodies, trade associations and global ecosystems to talk about fostering cooperation and change.
This wide-ranging and free-flowing conversation features Stephen Johnston from Aging 2.0, Katie Sloan Smith from Leading Age and the Global Aging Network, George Margelis from the Aged Care Industry Informational Technology Council, and Mary Patetsos from the Federation of Ethnic Communities Council of Australia and ACH Group. They covered everything from sharing ideas, tackling the workforce challenges, the ever-growing list of concerns for aged care providers and the potential role of technology in changing care in the future.
Along with covering a lot of interesting ground, it's a fun and lighthearted conversation between some incredible thought leaders – one not to be missed!
As always if you enjoy the show, please take the time to rate and review us on Apple Podcasts or wherever you get your pods. It means a great deal to the show and will make it easier for other potential listeners to find us.
The Aged Care Enrichment Podcast is proudly brought to you by SilVR Adventures.
Subscribe and check out our back catalogue of available episodes on Apple Podcasts, Spotify, iHeartRadio or wherever you get your podcasts from or online here: https://silvradventures.com.au/podcast/