Australians must support and recognise the ongoing efforts of aged care workers – including better pay – to improve the overall sector quality and staffing, says the head of the council tasked with leading meeting workforce challenges.
Aged Care Workforce Industry Council Chair Louise O'Neill told Inside Ageing the workforce was incredibly resilient but deserved more public recognition for their critical role.
She said plans were imminent for a "social change campaign" to support staff and attract and retain more people into the sector.
"The answer also rests in Australia giving recognition to the work aged care workers do and compensating them equitably," she said.
"At the moment, aged care workers are paid less for working in aged care than if they were doing comparable work in another sector.
"Providing care and services for our older population is incredibly rewarding work, but it isn't widget based, it requires thought, assessment, understanding and a range of skills that are getting broader and deeper as we live longer and experience more complex health needs. We, as a society, need to recognise and address that."
Ms O'Neill was appointed in June to oversee A Matter of Care: Australia's Aged Care Workforce Strategy roadmap to boost worker skills and future-proof the sector.
The Aged Care Workforce Industry Council is working with government to overhaul aspects of the sector in line with quality standards.
Work to reframe the qualifications and skills is underway.
But Ms O'Neill said pay grades were important.
"Ensuring aged care workers receive pay parity is also linked to adequate resourcing of the sector," she said.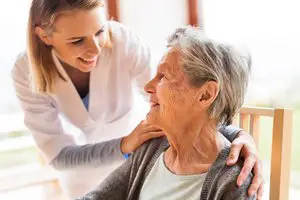 "Providers desperately need more workers but it's hard to attract new staff when the pay is low. It is of course, even more difficult in the current Covid-19 environment when aged care workers are often heavily criticised in the media which in turn is contributing to morale and retention issues."
Stressors on the industry workforce were highlighted last week with the release of a CompliSpace report revealing most staff were stressed and doing more paperwork since the introduction of the Aged Care Quality Standards.
Ms O'Neill said she was not surprised by the findings.
"This has been an incredibly tough time for the aged care workforce. A Matter of Care identified many of the workforce's needs well before COVID-19 hit.
"The Council was already driving implementation of the National Workforce Strategy from May last year when Industry funded its establishment.
"We are a unique entity in that we straddle industry, consumers, workers and government – our only agenda is to implement the strategy and build a world leading aged care system because we have addressed our workforce issues."
The strategy is devised to grow and sustain the workforce to meet the current and future needs of Australia's aged care system.
It found "unescapable truths" about community and industry views on aged care and it was critical to shift those views.
The strategy also said the industry was fragmented, with most of the 3223 providers small to medium enterprises across community, home care and residential care. The industry is facing rising consumer expectations.
"The shift towards a more consumer-centric market in aged care is consistent with changing consumer dynamics across the broader economy," the strategy said.
"The time is right for the aged care industry to lead community interactions and design its service delivery based on deeper and actionable consumer insights."