An aged care broker service that has become an approved home care provider is looking to grow its partner network nationally.
CarePilot, which offers a case management service to consumers, has announced its plans to expand beyond its current Sydney base into other capital cities.
Co-founder Peter Hanley said the company has been helping consumers understand what funding they are entitled to and find quality services offline since 2014, but it has now launched an online platform to coincide with the home care changes.
It has also become an approved provider, and is building a national brand presence on My Aged Care to secure new business.
"I think the intent of My Aged Care is great but everyone knows there have been teething issues. The mode of delivery is challenging to connect with for lots of people," he said.
"Clients come to us and say just tell us what we need to know, and we take them through it," Mr Hanley said.
Part of CarePilot's pitch is that it charges lower fees, giving people more care hours in their package.
On the CarePilot website consumers can enter their current package details including fees and contributions to see what their total hours of care or support comes to each month, and then see if they can get a better deal.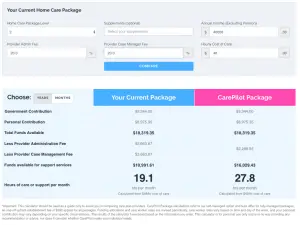 The organisation works with other approved providers that it has vetted and then brokers services from them.
In addition to care workers, registered nurses and care managers it also offers services by allied health professionals and legal and financial planning experts.
"We provide one place for consumers to find all the services they need to stay at home," Mr Hanley said.
"People often don't know what they are eligible for. It's also about providing confidence and reassurance, dealing with providers people know they can trust."
"We work with a number of service providers we know we can trust to deliver a high quality service to deliver cost effectively. As we roll out nationally we are looking to add to that."
CarePilot works on a flat percentage fee structure for clients, and partners with providers that share the same ethos of value for consumers.
Consumers have the choice of three different levels of service, ranging from intense support where the package and services are run by a project manager, guidance only, or completely hands off.
"Ultimately the consumer is our shared client, and we want to work with providers that deliver high quality services, relative to the cost, with a very strong commitment to doing the right thing for the client," Mr Hanley said.
"Partnering with us is not a tick box process, it's a conversation to get to know one another. This is very much a relationship business."
"The key gap we saw in the market is the bringing all of that together and ability for someone to hunt things down.
He described a palliative care client who had pancreatic cancer and had appetite issues, cognitive issues and could no longer speak English – only their native language of Japanese.
"The client only wanted to eat particular type of Japanese food, and wanted a nurse who could speak Japanese, so our brief was to find someone who could do this. That's what our care managers will do to meet a client's need," Mr Hanley said.
CarePilot was founded by Peter Hanley who is a doctor with a business background, Professor Tuly Rosenfeld, and a private investor, Gavin Solsky.
The business received a small grant from the NSW Government as part of a technology innovation program, but has otherwise been privately funded.