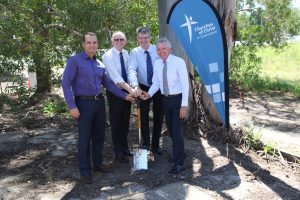 Construction has commenced on a new aged care development in Queensland that will comprise accommodation and a ready-made community to support integrated living.
Churches of Christ is building what it describes as a "master planned campus" on vacant land in Caloundra ahead of a number of other large developments in Queensland and Victoria.
The $28 million first stage of the 'Churches of Christ Campus Meridan' will create a variety of activity spaces and services and will include multi-purpose community centre, café, seniors care accommodation and home care and support services.
This first stage of development will see approximately 1,000 contractors employed during construction and over 100 staff once the first stage is completed in late-2018.
The state-of-the-art residential aged care service will accommodate seniors in a series of themed cottage-style one and two storey buildings.
The community hub will be available for local community groups and Meridan Campus residents to enjoy as part of the integrated community lifestyle and features a cafe, hairdressing salon and auditorium.
Acting Chief Executive Officer David Swain said the development's first stage is major investment in progressing innovative seniors care for the region.
"We are proud to bring the best of seniors care to the rapidly expanding Sunshine Coast." Mr Swain said.
"The aged care service will provide the best in care to enable local seniors to age in place with no need to move from their community if their care needs change."
The not-for-profit organisation is also currently developing major expansions to its seniors care services in Stanthorpe and Warwick.
Mr Swain said the developments demonstrate a strong commitment to seniors and local communities.
"These are substantial investments, in terms of resources to plan and build, but also as longer term community investments with significant job creation, training and local suppliers," he said.
"The key focus remains on the local community, seniors and supporting them with innovative accommodation and care services."
"The services we deliver, and the campuses we operate from, are evolving to meet those needs," Mr Swain said.
"We also provide for those living in their own homes, with the enhanced delivery of home and community care a consideration of any of our development projects."