Western Australia's newest community care organisation – the result of the merger of WA based care providers Care Options, Volunteer Task Force and Community First – has been named Chorus.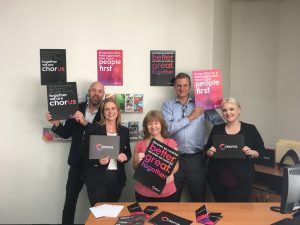 The new organisation has the tagline A fresh approach to community service and will work creatively and courageously with people in the community.
Dan Minchin, Chief Executive Officer of Chorus, announced the new name at an official launch on 25 October.
"We are proud to launch Chorus, a name inspired by the idea that a group of people, in our case from three originally separate organisations, could unite and work together to create something much stronger than the sum of our parts," he said.
"Much has changed in the aged, disability and mental health sectors in recent years and we are positioning ourselves for success, excellence and accessibility for a greater number of people in need; Chorus is set to become the 'new face' of community services in WA."
"We firmly believe that now we are united, we can be stronger and make a difference as well as provide meaningful, convenient services for people to reconnect with their communities and make a substantial difference to their lives."
The new logo, a symbolic "C", represents different elements of the organisation and the community coming together for a common purpose – a chorus of voices.
"We are thrilled with our new look. It is strong, vibrant and dynamic. We believe it reflects our vision for a different approach to community service and a new way of working with people, coupled with our promise to be responsive, practical, empowering, and always respectful," Mr Minchin said.
With 22 locations throughout Western Australia, Chorus is a not-for-profit organisation that supports people later in life, those with a disability and those in mental health recovery, to live the life they choose.
Chorus Chair, Dr Moira Watson, says the merger has been an historic event.
"Our new organisation has been formed from a merger of equals to create a bigger, stronger, Western Australian-based operation.
"Our journey to this point has seen us merge with momentum. Culture and history have been central throughout this process and, as we innovate and grow, connecting more communities, we will be different and stronger together."
Chorus provides a range of home and community services, including transport, wellbeing programs, gardening, home maintenance, social visits and shopping assistance. It draws on the support of more than 700 committed volunteers each year.