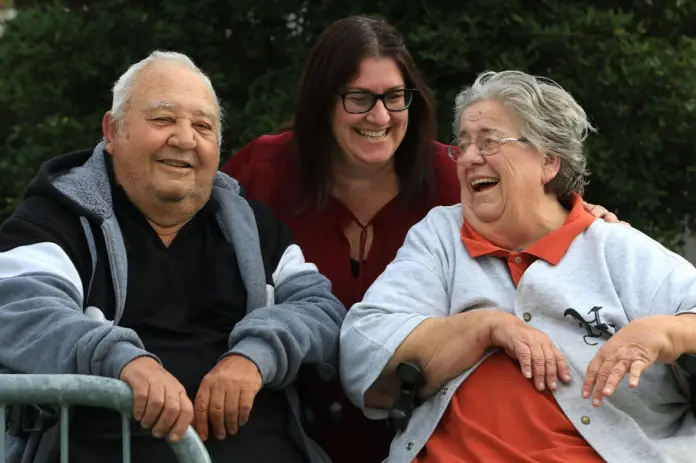 This article is part of our showcase of the 2019 Future of Ageing Awards. IRT's Service Linkage's program was the winning entry for Supporting Independence.  
IRT Foundation's innovative Service Linkage program connects vulnerable older Australians who have been homeless or who are at risk of homelessness to the services they need to age well.
Project Overview
Seniors experiencing a housing crisis are often the most vulnerable and disadvantaged, with complex factors contributing to their housing situation. Even when rehoused into affordable, age-appropriate accommodation, seniors who have faced homelessness require ongoing advocacy and support to age well.
There is a gap in service provision between housing placement services and complementary services to support senior Australians to regain and maintain their independence. To address this gap, IRT launched a pilot Service Linkage program in August 2018 to provide ongoing support to seniors who had been referred through our homelessness program.
The Service Linkage program integrates IRT's Foundation's approach to solving issues facing older Australians across housing placement, linkage to relevant services and social and civic participation in the Illawarra region.
A dedicated Service Linkage Coordinator was recruited to complement existing services and deliver on IRT Foundation's Social Impact strategy. IRT Foundation is the Social Impact arm of IRT Group, a non-profit community-owned Aged Care organisation.
How it came to together
IRT Foundation's Service Linkage program was developed based on a need identified through our homelessness programs in the Illawarra. The short-term case management of the Commonwealth funded Assistance with Care and Housing program (ACH) was not meeting the demand for support to vulnerable older people in the Illawarra who were experiencing housing instability.
Some of the factors contributing to this demand include increased housing stress in over 65-year olds in the Illawarra-Shoalhaven region, poor housing affordability in NSW generally, a lack of suitable and affordable housing stock, a lack of long term support to re-enable older people who have recently been housed to maintain their tenancy, and widespread discrimination against mature age workers with few suitable flexible work placements suitable for an ageing individual.
Older people who are homeless or at risk of homelessness are often dealing with multiple complicating issues such as mental health, drug and alcohol dependencies and domestic violence. Increasingly we are seeing older people forced into homelessness as a result of elder abuse, with financial and psychological abuse the most common matters reported.
In addition, the NSW Ageing Strategy suggests that renting in older age has several negative impacts on health and quality of life, especially for those with dementia, disability or other health and mobility issues.
Laws protecting people who rent do not specifically consider older renters or issues of age discrimination against older tenants. Older people in private rental can be at higher risk of homelessness.
This program addresses this social issue by providing 'upstream' early intervention focused on specialist older people's housing services, which research shows benefits older people in terms of health and wellbeing, in conjunction with addressing structural barriers.
Early intervention with specialist older people's housing services can assist older people to access affordable housing and ensure they live independently for longer. Homeless seniors who are provided with early intervention support require fewer emergency housing and health services, and avoid premature entry into residential aged care accommodation.
The Service Linkage approach was formulated based on a social determinants of health premise, developed with support from the University of Wollongong's School of Public Health.
The Service Linkage program was solely funded in its pilot year by IRT Foundation, however in 2019 the Foundation obtained grant funding from Perpetual to sustain their continuum of activities, including the Service Linkage program.
Outcomes
Each client presents with a unique set of needs and prioritisation will consider how our intervention will create change through appropriate provision of services for each individual's personal outcomes.
Many clients experience a high level of scepticism towards bureaucracy and formal service provision, and are disengaged from the 'system'.
Alternative pathways to engagement with services are explored through identification of person-centred goals. Goals may be short-term and simple, or longer and complex, with all goals mapped against the identified outcomes in IRT Foundation's Theory of Change. This helps to demonstrate measurable achievements against these outcomes and gives clients a sense of confidence in their journey.
The Service Linkage occurs across multiple agencies including Housing NSW, Medical/health care organisations, My Aged Care, Non-government welfare organisations, including homelessness agencies, Aged Care Service Providers, including IRT, Family/friends/acquaintances, Legal and tenancy services and real estate agencies notifying IRT about at risk tenancies.
From September 2018 to June 2019, IRT Foundation's Service Linkage program assisted 26 clients with 1364 incidences of support, including 118 referrals to services and 532 face-to-face visits and phone-calls. Over 700 activities supporting and linking clients to services were provided.
How important is social inclusion for aged care providers? 
IRT recognises that some people face greater barriers than others to link to existing services. An increasing emphasis on the consumer's ability to navigate the pathways to access services, along with an enhanced reliance on digital literacy, means that many people are unable to connect with the services that will allow them to age well and in their own homes. Factoring in a lifetime of distrust toward institutional and government services, it can take a great deal of effort to provide essential services to a particularly vulnerable older person.
Increasing numbers of older Australians are falling through the gaps in the system, and IRT Foundation is committed to effectively linking disadvantaged older people to the supports they need to positively age.
What does winning this award mean to your organisation?
IRT Foundation's innovative Service Linkage and Booraja programs are filling an unmet need and ensuring the most disadvantaged Australians are receiving services and maintaining standard of living that we all take for granted.
To have national and industry recognition of these programs means a great deal to the dedicated and passionate program leaders and workers who are working with these clients every day.