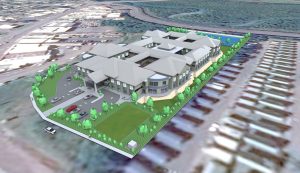 A disagreement between Mackay Council and aged care developer, Premier Health Care, over council fees could see the $40 million project axed, according to one of the company directors.
Directors of the proposed 120-bed aged care facility in North Mackay have been offered a 50 per cent discount on the Council's $1.2 million infrastructure fee, but they believe a 100 per cent discount should be applied citing a similar allowance made for Ozcare earlier in the year.
Following the Council meeting, director Viv Padman told local newspaper, the Daily Mercury, the project was unlikely to go ahead now as the company wasn't in a position to wear any additional costs for the project.
"I don't consider this the waiving of charges I see this as an unnecessary impost on the creation of employment," he said.
"I was extremely disappointed; there is a precedent for council offering a remission and they did that as recently as November last year."
"The soil conditions over there require us to bore down to rock to a depth of 14m every 4m across the whole slab of the construction site," he said.
"This was pointed out to the council (and) I am a bit surprised none of the particular circumstances of the development were taken into account."
The planned facility was to be located close to Mackay Private Hospital and Mackay Hospital and offer multipurpose accommodation options with the latest technology, built quality, design and research based amenities.