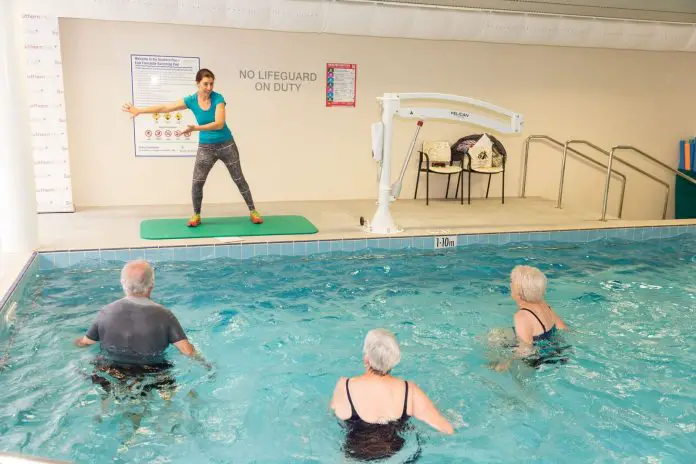 A new integrated care site for people living independently or in residential care is offering a new model of care for seniors in Western Australia.
The Southern Plus Health and Wellness Centre in East Fremantle, co-located with the recently opened Southern Plus East Fremantle residential aged care home, is the first of its kind in the state.
The health and wellness services on offer have been developed in partnership with Edith Cowan University's Vario Health Clinic and Kaleeya Health, and aim to help seniors return to independent living following illness or a fall, with the right professional and medical support.
Using technology to capture health information, the centre offers a truly interdisciplinary health care team who are all on one site and is improving the quality of collaboration between health professionals and aged care services.
Southern Cross Care (WA) CEO, Mr Errol Turner said the Southern Plus Health and Wellness Centre would set a new standard in health care dedicated to seniors.
"Too often as a nation, we see seniors spending unnecessarily long periods in hospital or prematurely entering into residential care. Often there are not the health and wellness services available following surgery, illness or serious injury that caters specifically for seniors to rebuild strength and minimise falls," Mr Turner said.
"We believe entry into residential aged care should be an end-of-life care service, supporting those in their final few months of life."
Facilities include a purpose designed exercise clinic with modern gym equipment, outdoor exercise area and hydrotherapy pool. Services include GP's with experience in treating seniors' health issues and exercise programs designed by exercise physiologists and allied health professionals.
All exercise programs are designed to support rehabilitation of seniors' illnesses, injuries or joint replacement surgery following a stay in hospital.
"With our partners ECU Vario Health Clinic and Kaleeya Health, the Southern Plus Health and Wellness Centre responds to this need in the community, providing state of the art facilities and highly trained and experienced allied health and medical professionals," Mr Turner said.
"Our teams are committed to helping seniors remain independent for as long as possible, so they may stay out of residential care and achieve the best possible quality of life," Mr Turner said.
Prof Rob Newton, Associate Dean, Medical and Exercise Sciences, Edith Cowan University said the partnership will help more seniors access health and wellness services.
"Research shows that exercise as a therapy in conjunction with medical programs advised by GPs and medical specialists helps improve rehabilitation and overall health and wellness of individuals. Coupled with the therapeutic benefits of improved social contact, the outcomes for seniors is a much better quality of life," Prof Newton said.
The next generation of health and wellness services offered at the Southern Plus Health and Wellness Centre includes:
• Onsite hydrotherapy pool and state of the art exercise equipment;
• Access to onsite GP's through a partnership with Kaleeya Health; and
• Exercise physiology and exercise classes delivered by the Vario Health Clinic, developed with the School of Medical and Health Sciences, Edith Cowan University.