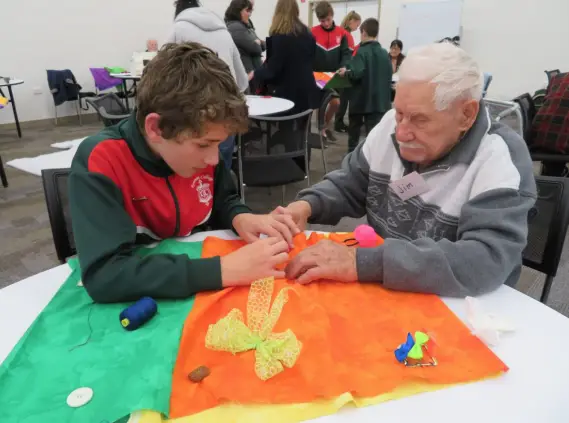 This article is part of our showcase of the 2019 Future of Ageing Awards. Manjimup Home and Community Care won the Dementia Care category.
Since late 2016, Manjimup Home and Community Care (MHCC) has partnered with Alzheimers WA to help the Shire of Manjimup, in south Western Australia, become a dementia-friendly community.
Project Overview
A key part of becoming a dementia-friendly community was creating the Boronia Club at the MHCC Wellness Centre.
The Boronia Club provides a warm, homely environment where family carers can leave their dementia-affected loved ones, confident in the knowledge that they will engage in meaningful activities with qualified staff. Volunteers at the club are trained to run specialised art and creativity classes for people with dementia, as well as the general public, on a fortnightly basis.
The Boronia Club also welcomes pre-schoolers in every month to interact with dementia clients in a heart warming intergenerational initiative. This activity opened the door for dementia awareness training and skill swap sessions to take place in local schools.
Another part of the project was the successful education programs at two schools delivered in partnership with Alzheimers WA, as well as a successful multi-generational skill swap project. Dementia learning has now become embedded in local school curriculums.
Why it came about
The town of Manjimup has approximately 4,300 people – 130 of whom are living with dementia.
The partners and carers of those people made it clear that their loved ones needed more support, better services and increased community empathy. As a result, MHCC decided to partner with Alzheimers WA on the Dementia-Friendly Communities (DFC) program.
In 2016, Shire of Manjimup Home & Community Care signed a memorandum of understanding with the Dementia Partnership Project (DPP is a partnership between the Department of Health and Alzheimer's WA) and the Dementia-Friendly Community (DFC) program in Manjimup was born.
Outcomes
The Dementia-Friendly Community project's primary aim is to enhance the quality of life of people living with dementia in community, and to create a dementia-friendly community, one that is stigma-free, educated, understanding and empathetic.
MHCC's Boronia Club project, community outreach and schools project have helped realise this goal.
These projects were supported by a $15000 Dementia Friendly Communities, Community Engagement Project grant through Dementia Australia. The grant helped pay for an Alzheimer's WA dementia specialist to deliver art and creativity workshops to interested community members and volunteers.
The initial 10-week art and creativity for dementia workshops were a success, and were then handed over to trained volunteers to run. These classes have now been running for ten months and are proving to be therapeutic, stimulating, energising and greatly satisfying for the individuals who attend. People with dementia who attend are generally calmer and less agitated after their art sessions, and fully engaged whilst participating.
In addition to the art classes, Alzheimers WA educators were employed to deliver a series of interactive workshops to local school, which were attended by 162 students. The sessions used a storybook, presentation, video, discussion and practical learning that explained how to support people living with dementia.
The success of the school project is evidenced by the fact that dementia education has been embedded into the Year 6 school curriculum at another local school, Kearnan College.
Shire of Manjimup have adopted the ethos of developing as an age and disability-friendly Community, both in recognition of the ageing and disability demographic and the knowledge that an age-friendly community will meet the needs of all ages.
What advice do you have for smaller aged care providers about innovation in dementia care?
Start with your staff and encourage participation in the many online dementia training opportunities such as the Dementia Friends program through Dementia Australia.
The program offers short, educational and engaging online videos and they are free so it doesn't cost the organisation a lot of money but it helps to get your team thinking about how they can be more dementia-friendly not just at work but in the broader community.
Look around for prospective partnerships and grant opportunities that give you the scope to create and implement innovative projects.
Always consult with people living with dementia and their carer's about what's important to them and keep abreast of what innovative ideas are happening outside of your community and around the world.
What does winning this award mean to MHCC?
We are extremely proud to have won this award and it reinforces that we have been instrumental in creating a more inclusive, supported and connected Shire of Manjimup for people living with dementia and their families.