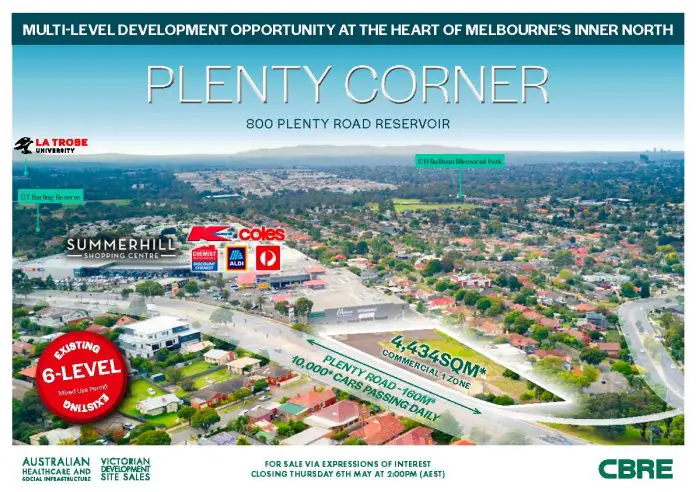 800 Plenty Road, Reservoir is being sold by CBRE's Development Sites and Healthcare and Social Infrastructure teams comprising, Jimmy Tat, David Minty, Marcello Caspani-Muto and Nathan Mufale. (contact details below)
The site features an existing permit for vertical six level Aged Care and Retirement development across two buildings however interest is also expected from mixed use, residential and built to rent developers. With 4,434sqm* of land the subject property is also zoned Commercial 1.
Marcello Caspeni-Muto said "Reservoir is rapidly emerging as a popular locale however this trend started a number of years ago. There are not many locations available in Victoria with the popularity of Reservoir within such close proximity to the Melbourne CBD.
"With recent recommendations from the Royal Commission, it has provided the industry with further clarity around future funding required for the Residential Aged Care sector. With many having sat idle over the past 24 months we are expecting activity across the space to begin to climb again over the balance of the year." He added.
Jimmy Tat added "given the size or the land and ability to achieve scale, it offers buyers a multitude of opportunities. Reservoir is known as a hot spot for first home buyers, and with the median unit price under $600,000, there are stamp duty exemption benefits available for developers to capitalise on"
800 Plenty Road will be sold via Expressions of Interest closing on Wednesday 5th of May 2021 – https://www.cbre.com.au/properties/campaigns/healthcare-and-social-infrastructure/