A new cookbook with recipes designed for people with life limiting illness or facing the end of life has been published by a chef, palliative medicine specialist, speech pathologist and dietician who all specialise in aged care.
The book was inspired by a request for lobster as his 'last meal' by a friend of HammondCare's Executive Chef, Peter Morgan-Jones.
Lobster for Josino: Fabulous food for our final days features pages of practical tips and more than 100 innovative recipes (including molecular gastronomy) that promote beautiful food and personal choice for people who may have only a short time to live.
"I worked with Josino at the Sydney Opera House and some years later his wife contacted me to say he was dying, and had asked to see me and another former colleague," Peter said.
"During our visit at a Sydney hospital, Josino's lunch arrived and his shoulders dropped as he lifted the plastic lid. He told me he couldn't eat it and wished he could choose his own meals. I asked him what he wanted and he gave me a cheeky grin and said, 'Lobster, Peter.'
"I went to the Sydney Fish Markets and sourced a lobster but hospital staff would not agree to me preparing him a lobster meal. I returned a couple of days later and Josino was unconscious and sadly, never recovered, and never got his lobster."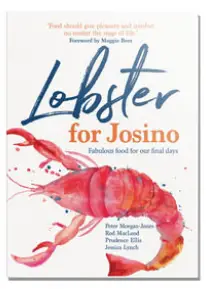 Peter describes this as a watershed moment in his illustrious restaurant career and in part inspired him to redirect his work towards revolutionising the approach to food for vulnerable people such as those living with dementia and, now, those who are in palliative care.
Maggie Beer, who was influential in helping Peter transition to the health and aged care sector, has written the foreword and said the book
"I have loved all of Peter's work. He has challenged the status quo for food for dementia residents in aged care and now he tackles an incredibly complex and emotional subject—food for the last stages of life," Ms Beer said.
"Food should always give pleasure and comfort no matter the stage of life. And in my view, this is never more important than when someone is nearing the end of their life."
Lobster for Josino uses a range of innovation from molecular 'Guinness air' to dehydrated fruit, Scotch mouth swabs to Christmas pudding mist and of course the lobster dish that anyone can enjoy – all to ensure no one misses out on their favourite food and drink.
Peter Morgan-Jones is Food Ambassador and Executive Chef for HammondCare and the Dementia Centre. For more than five years, he has helped inspire and maintain a rich and vibrant food culture, not only within HammondCare, but broadly across the aged care and health sectors.
Peter enjoyed a long and successful global career as a restaurant chef and since coming to the not-for-profit sector has authored two previous books, Don't give me eggs that bounce: 118 cracking recipes for people with Alzheimer's and It's all about the food not the fork! 101 easy to eat meals in a mouthful.
The book was co-authored by Peter Morgan-Jones; Rod MacLeod- a Palliative Medicine Specialist at Hibiscus Hospice, Auckland and consultant to HammondCare in Sydney; Prudence Ellis – a Senior Speech Pathologist within HammondCare who is passionate about ensuring equal access to quality food for people with swallowing difficulties; and Jessica Lynch – an Accredited Practising Dietitian who has been working in rehabilitation, cancer rehabilitation and palliative care at Greenwich Hospital for the past 13 years.
Lobster for Josino is being launched by the CEO of Palliative Care Australia, Liz Callaghan, during Palliative Care Week (May 20-26) and will be available through all good booksellers and at crackingrecipes.com