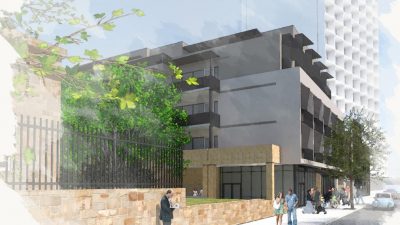 HammondCare has received approval from the City of Sydney to develop a 42 bed residential aged care home for older people experiencing homelessness in Sydney's inner city.
Chief Executive Dr Stephen Judd said this was a significant project that would fill a major need in service provision in the Darlinghurst area.
"Great cities are about providing essential services for all – and this decision means we will now be able to move forward to help provide long term care for some of inner Sydney's most disadvantaged people," Dr Judd said.
The aged care home will be built at 118A Darlinghurst Road, Darlinghurst, adjacent to St John's Anglican Church.
The site – which is currently a car wash – will provide residential aged care accommodation in private rooms for both men and women who are homeless or at risk of homelessness. It will incorporate specialist services for people with high care needs.
"Homelessness for older people in inner Sydney remains a significant issue and this project will provide a much needed service for older people who are in dire need and help them regain some independence and stability with dignity in their lives," Dr Judd said.
HammondCare has leased the site on a long-term basis from St John's Church.
Rector of St John's, Edward Vaughan also welcomed the CoS decision to proceed with the project: "St John's has been supporting homeless men and women for almost 30 years through programs like Rough Edges, so we are very pleased that this project will now go ahead," Rev Vaughan said.
Dr Judd said he was hopeful construction would begin as soon as possible with the home operational by mid 2018.
The approved DA also includes a public walkway between Darlinghurst Road and Victoria Street, and extensive landscaping.
HammondCare is seeking financial support from the community to enable this special project, despite receiving a $1.5 million grant from Council last May to help it build the facility.
For more information about partnering with HammondCare on the project please contact 1300 426 666.