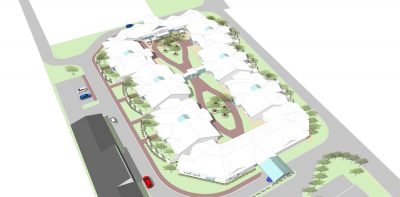 HESTA has invested $19 million in Australia's first village designed to recreate real life experiences for those living with dementia have been unveiled.
"Korongee" is a partnership between Glenview, HESTA, Social Ventures Australia and to be built with the assistance of the Commonwealth Government, with the village structure to be based on a typical Tasmanian cul de sac streetscape that allows residents to feel at home and wander freely within a safe and supported environment.
Glenview Chairman Iain Weir said Korongee, located in the Tasmanian suburb of Glenorchy, would be the first of its kind in Australia to offer this proven and cutting edge model of care.
"In essence Korongee will create an authentic suburban village environment for those living with dementia, with 15 demographically tailored homes set within a small town context complete with streets, a supermarket, cinema, café, beauty salon and gardens," Mr Weir said.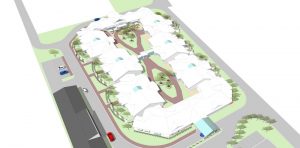 "The Korongee village concept draws on a range of international best practice models, particularly the dementia village of De Hogeweyk in the Netherlands while contextualising this into a uniquely Tasmanian experience.
"It has been shown that residents at the De Hogeweyk dementia village live longer, eat better and take fewer medications and we hope to see similar transformative health benefits at Korongee.
"Korongee's design will make it possible for residents living with dementia to walk around the village and participate in everyday life decisions which are presently not available to those in dementia care, activities such as going to the café to buy a coffee or simply heading to the supermarket to buy groceries for dinner.
"In addition to the cultural services hub, Korongee will consist of 15 houses, each with six bedrooms which will be staffed by health professionals who dress casually and will act as 'home makers' to provide an authentic home like environment."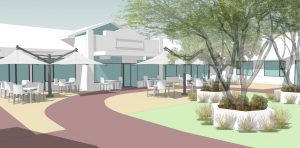 Glenview CEO Lucy O'Flaherty said people living with dementia often struggle with unfamiliar spaces, colours and even décor which is why each house will be designed to create familiar cultural touchstones of Tasmanian suburban life.
"The University of Tasmania will undertake demographic research to inform what makes up the most common elements of a Tasmanian lifestyle to inform the design, décor, and which house and lifestyle profile each resident is most suited to within the village," Ms O'Flaherty said.
"Creating an authentic environment is the key to this cutting edge model, with residents within each house to be matched by their similar backgrounds, experiences, interests and skills.
"At Korongee we won't have any institutional routines – residents will be allowed to wake up and move about their day in their own time and in freedom. If they want to make themselves a piece of toast in the middle of the night, they can do that.
"For example, a person who has worked as a tradesman all their life will most likely have a routine involving an early start and knocking off at 3pm. Alternatively, at the other end of the spectrum artists or creative folk who may rise later and have later evenings and weekends that are highly social – two lifestyles not necessarily conducive to each other."
Ms O'Flaherty said the repurposing of this unused site would add significant economic benefits to the local community, with an estimated 50 new and ongoing jobs to be created both during and after construction.
"We are currently in conversation with the local community to seek their input and feedback into the concept and we look forward to continuing this conversation throughout the development and construction phase of the project," she said.
"Once complete, the broader community will be encouraged to visit the village to enjoy the gardens, use the supermarket, visit the beauty salon, watch a movie at the theatre or have a coffee in the café.
"We expect construction to commence in early 2018, with the site to be complete by mid to late 2019."
HESTA CEO Debby Blakey said that the $19 million investment in the facility was a fantastic example of the exciting collaboration between the $40 billion industry super fund and the health and community services sector.
"We heard about the great work Glenview was doing and, because HESTA has a specific focus on identifying investment opportunities in our sector, we were able to explore how we could support this fantastic project," Ms Blakey said.
The investment was made through HESTA's $30 million Social Impact Investment Trust that seeks to invest in opportunities that deliver both an appropriate financial return and a measurable social impact.
Managed by Social Ventures Australia (SVA), the Trust is one of Australia's largest impact investment funds.
"The demand for dementia care across Australia is outstripping the available supply of services and facilities," Ms Blakey said.
"This investment will help provide a world class facility for the local community and benefits our members by earning a return, while also piloting a model for investing in Aged Care that could attract other large investors to this space."
CEO of Social Ventures Australia, Rob Koczkar, said that innovative partnerships like Korongee show what can be achieved when the skills and experience of different sectors are brought together.
"We are delighted to be working with Glenview on this project; the first of its kind in Australia," Mr Koczkar said.
"It is a great example of how SVA's partnership with HESTA to establish one of Australia's largest impact investing funds provides an opportunity to create positive social impact in communities like Glenorchy."
Allens provided pro bono advice to Social Ventures Australia on the financing of the ground-breaking Korongee dementia care village.
Wicking Dementia and Research Centre Co-Director Professor and Glenview Board member James Vickers said with dementia emerging as the most important health issue of the century, the rapidly rising prevalence of this condition would have tremendous impacts across our society.
"It is vitally important to reconfigure our approach to care to meet the needs, as well as support the dignity and autonomy, of people with dementia now and into the future," Professor Vickers said.
"The built environment and the way we provide support and care have significant effects on personal well-being, as well as the progression of dementia, and so the Korongee model is a vital development and will be an internationally leading beacon for innovation in aged and dementia care."