Juniper has launched a new television campaign to promote its home care services that takes a fun and fresh approach to engaging consumers.
The ads, developed by creative agency BBAM, feature animated characters that interact with real residents of Juniper's Bentley retirement village in every day situations, according to BBAM CEO, John Booth.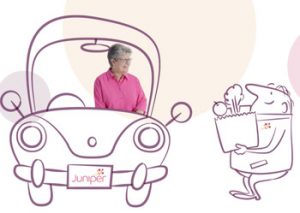 "In the past, aged care has been treated in a very serious manner, often presented as almost the last part of our life experience. We wanted to change that and have some fun," he said in an interview with Campaign Brief.
Roley Myers, Juniper's Manager of Communications and Public Relations, said they were looking for something colourful, unique and that demonstrated real care and engagement with their clients.
"We wanted authenticity and something very different. So, with the help of our retirement residents in Bentley, we had live actors and they loved being involved! And our staff are enthusiastic about the campaign and feedback so far has been great: our message that 'Juniper Cares' is unmistakable," he said.
Source: Campaign Brief