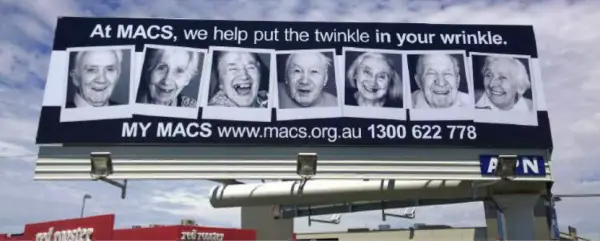 An integrated marketing campaign for Multicultural Aged Care Services (MACS) in Victoria has won the prestigious PRIA Golden Target Award for Best Integrated Marketing Communication Campaign.
Designed by agency, Chatterbox Marketing, the campaign focused on passion, purpose and playfulness to share people's remarkable life stories.
"It's interesting that our most celebrated campaigns are always those which spark from a high level of creativity, imagination, youthful energy and a powerful sense of purpose," Chatterbox Marketing's Creative Director, Meg Law, said in a blog post about the campaign.
"In this instance for our MyMACS campaign, we wanted to flip the stereotypical aged care marketing on its head. We wanted to celebrate and champion 'real people' with 'real stories'."
"We thought about this long and hard wanted to get to the crux of what we believe aged care marketing should be about: storytelling. After all, how many of you know an elderly person with decades of life experience, knowledge, advice and interesting anecdotes to share? It was high time we showed our respect to those born before us and shared these incredible life stories to the wider public."
"To their credit, [MACS] are always willing to try something new, love pushing boundaries and are open to new ideas. They opened their hearts and their doors to us and let us in to meet with these extraordinary characters who all had an amazing back story."
"We talked to a 90 year old flamenco dancer, a former palace guard to the Queen, a refugee who fled a war zone, and a mother of 12 children amongst many others."
"The more we learnt about MACS through meeting its staff, volunteers and residents, the more we understood that it was our job to uncover the endearing stories that sat behind a wrinkle, a sometimes-toothless grin or a twinkle in the eye."
"The execution phase of the campaign involved rolling these stories and characters out via multiple communication platforms, utilising both digital and traditional mediums to spread the word."
"Once the campaign was in flight, we quickly realised this was more than a marketing idea: this was about empowering the elderly."
The Public Relations Institute of Australia has run the Golden Target Awards for excellence on public relations practice for 42 years.
Awards are offered in various categories representing the depth and diversity of modern public relations practice.