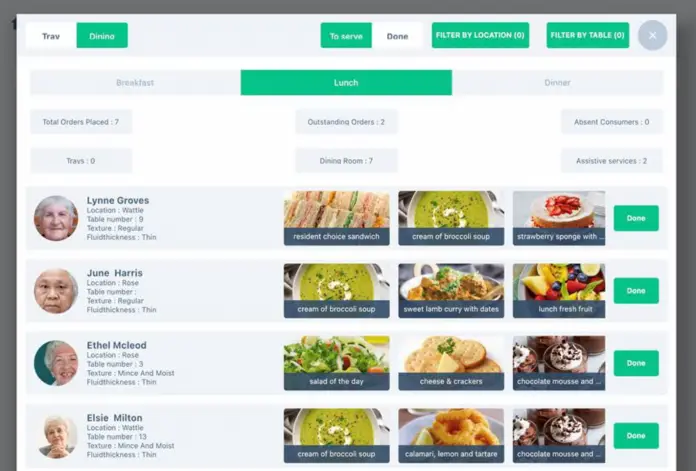 Winner of the 2021 Future of Ageing Awards – Technology (business) category
The idea for Simple food management software came to Emma Allan after her experience as a food safety consultant, auditor and trainer where she witnessed examples of unsafe practices relating to poor record-keeping, lack of governance, poor control of critical food handling steps and lack of product traceability.
Concerned about the risk to consumers while at the same time wanting to support consumer choice, Emma launched Simple, a cloud-based software that provides comprehensive food safety and consumer meal management for service providers.
The software links clients' dietary, allergen and texture modification requirements and personal likes and dislikes with a live menu generated by the provider, to show what options are appropriate for an individual.
"Food safety is a risk to all of us but the handling and serving of food poses a substantially higher risk for frail and vulnerable people, with choking the second great cause of preventable death in aged care," Emma said.
"Through the Simple app, either consumers or aged care workers can order meals and have confidence the selection is safe and suitable for the individual."
The software uses cloud infrastructure and provides full audit traceability for food safety compliance, eliminating paperwork and saving time updating records.
The software is menu/food product-driven and integrated with each individual's allergen, food texture and fluid thickness requirements through clinical care software utilised by the aged care provider. This critical information is updated via an API transfer to Simple every 10 minutes.
Through a dashboard, managers can see how compliance is tracking each day and be confident each clients' requirements are up to date.
The software has been designed with significant input by aged care providers through surveys, beta testing and onsite trials.
"This has proven to be a huge success, with many of trial partners moving forward with a commercial agreement including RFBI and Anglican Care," Emma said.
"Today there are now more than 5,900 consumers now registered with Simple through 85 aged care facilities. Feedback from staff and consumers is that it's easy to use and saves considerable time spent on record keeping and auditing, but with improved governance and compliance."
Funded through investors and a $500,000 grant from the Australian Commonwealth Government Department of Industry, Sciences, Energy and Resources, the software can be used on any smart device making it accessible and sustainable, with updates easily applied.
In awarding Simple the winner of the Business Technology category, the judges were impressed with the reviews provided by providers using the software and how the app can help with record-keeping and auditing – providing much needed time savings to both workers and providers.
Find out more at simplefoodapp.com.au