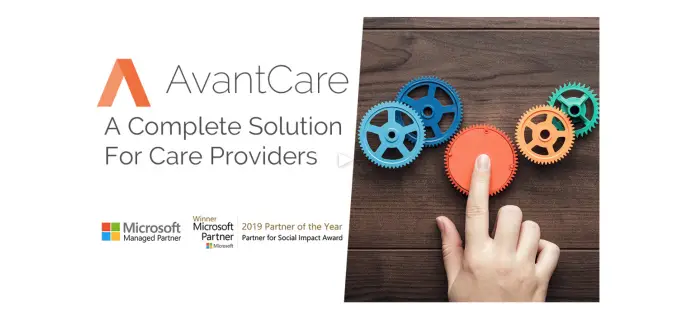 Microsoft has announced it will reduce the ISV licensing price of AvantCare software for NDIS providers, to increase access and help organisations move away from paper-based processes.
AvantCare is an integrated NDIS client and services information management program, built off the Microsoft 365 Dynamics platform.
It was developed by Perth-based startup Illuminance Solutions, specifically for NDIS service providers to manage their processes more effectively, before becoming part of Microsoft's Independent Software Vendor (ISV) program.

The company won Microsoft's Global Partner for Social Impact award earlier this year and CEO Nilesh Makwana has since used the award to champion for greater access for NDIS providers to quality software.
"We built our AvantCare software on the Microsoft platform to help NDIS service providers manage their processes more effectively," CEO of Illuminance Solutions Nilesh Makwana said.
"What we found was that the licensing expense was making access restrictive for some NDIS providers, hindering their ability to deliver critical services efficiently, or at all."
Microsoft has agreed to reduce the ISV licensing price for AvantCare, a move likely to have a positive impact on the NDIS sector, with many providers facing paper-based and outdated processes for managing funds.
"Microsoft and Illuminance Solutions are both focused on developing tech for social impact, we are driven by the same values – to create technological solutions that help deliver operational efficiencies to improve our communities," Mr Makwana said.
"Being able to offer Australia's NDIS service providers greater access to our AvantCare platform will help create operational efficiencies, so providers can spend more time on their purpose; delivering better services to those in need."
The AvantCare platform has been deployed in several organisations across the country, with clients including People Who Care and SCOSA.
"Since winning the global Microsoft Social Impact Partner award, Illuminance Solutions has used its voice to champion change, calling for Microsoft to consider doing more for smaller nonprofits and social impact organisations," Mr Makwana said.
The announcement follows a recent global initiative launched by Microsoft that enables small nonprofits to receive up to 10 donated seats of Microsoft 365 Business, with the aim to help these organisations drive bigger social impact.
"For many NDIS service providers, any investment in updating IT systems or administration processes detracts from the crucial funds needed to deliver important services to those living with a disability," Mr Makwana said.
"With the reduced licensing pricing, Illuminance Solutions will now be able to help more of Australia's NDIS service providers deliver better outcomes for their communities," he said.
Illuminance Solutions employs several people living with disability and recently received the 2019 Business News Rising Star Diversity Award.