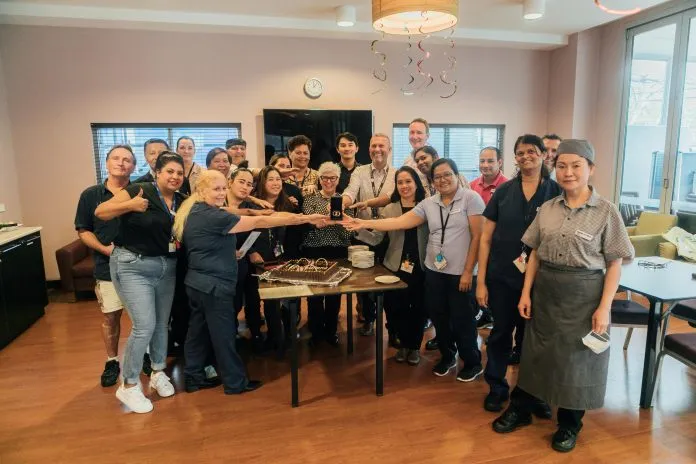 Mission Australia's Aged Care team (pictured) have been recognised for their dedicated work throughout COVID-19.
Last week, His Excellency General David Hurley Governor-General of Australia, and Her Excellency Mrs. Hurley awarded Mission Australia's Aged Care teams with a medallion for their exceptional and dedicated work throughout the very difficult year of 2020.
In NSW, Mission Australia operates three aged care facilities for those at risk of homelessness or formerly homeless, with two in Sydney and one in Orange. 
The entire Aged Care team was awarded the accolade for their commitment, perseverance, and professionalism in delivering Aged Care services during COVID-19 and excelling as a team amidst various additional changes and building works in 2020.
This is the first time a Governor General medallion has been awarded to a team at Mission Australia. 
Mission Australia CEO James Toomey said, "During this whole COVID-19 experience, protecting and supporting vulnerable people who are living in our Aged Care facilities has been of the highest importance to the Aged Care team at Mission Australia.
"I was always reassured by the extraordinary professionalism, resilience, and flexibility of our Aged Care teams, especially at a time when older people have been more vulnerable to the impacts of COVID-19.
"Throughout 2020, our Aged Care teams ensured everyone received the highest level of care and support. I am honoured and humbled by the incredible efforts of our Aged Care staff and delighted they have been recognised with such an esteemed award.
"I extend a wholehearted thank you and congratulations to the Aged Care team for keeping the people they serve safe and supported as well as dealing with a multitude of unprecedented challenges with compassion, perseverance, and professionalism. 
"They have ensured that the more vulnerable older members of our community have had stable, safe accommodation where they can look after their mental and physical health and live with respect and dignity.
"Everyone deserves an equal opportunity to thrive. With the right supports and measures in place, excellent staff, and quality aged care accommodation, we have been able to help older people to stay well, be safely housed and feel supported and connected during the pandemic."
Stephen Brooker, General Manager of Aged Care said, "It has been an incredibly challenging year for the Aged Care team at Mission Australia. I am so proud they have risen to those challenges and have now been acknowledged for their exceptional efforts. Some of NSW's most vulnerable people were safe in their hands and I congratulate them for their tireless dedication.
"Early on in the pandemic our Aged Care staff recognised the need for increased COVID-19 infection control training and to maximise hygiene and cleanliness, and put stringent measures in place.
"Not only did our staff go above and beyond to ensure the safety of our consumers, they also embarked on a range of other activities to ensure their wellbeing at a time of increased physical distancing. For example, at our Benjamin Short Grove facility in Orange, an outdoor yarning circle and fire pit area were created in mid-2020 with the Royal Botanic Gardens Community Greening program to help consumers to stay connected and healthy in the great outdoors.
"While the year ahead will no doubt have its fair share of ups and downs, I know our Aged Care team will expertly navigate them with the same compassion and professionalism they showed in 2020."
Residents and staff at Mission Australia's Benjamin Short Grove aged care facility in Orange also celebrated two community garden accolades in 2020. With the help of the Royal Botanic Garden Sydney's Community Greening initiative, the team won the Australian Institute of Horticulture Award for Green Space (Regional) and the Community Greening Virtual Challenge with the Royal Botanic Garden Sydney.