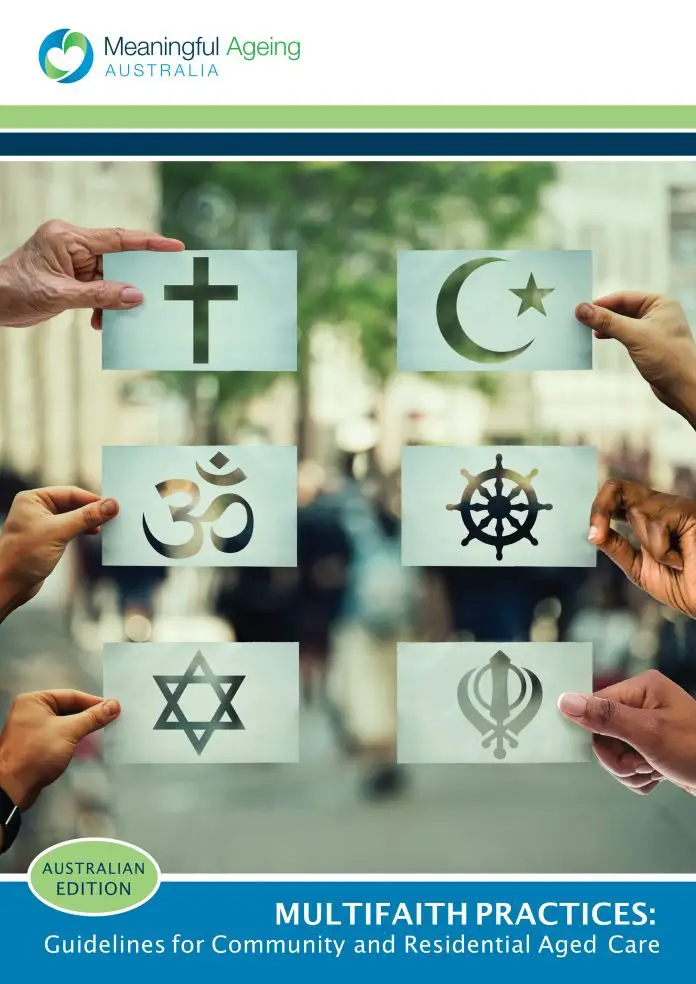 It is estimated that 18% of people in residential aged care are from non-English speaking countries, with a wide range of different cultures, backgrounds, and religions.
Within this context, some awareness and understanding of different faith traditions can help both the organisations and their staff become more inclusive and focused on the individual in their care. To assist the workforce, Meaningful Ageing Australia has produced their latest resource, Multifaith Practices.
Launched on Friday afternoon last week in an online webinar (see below video), Multifaith Practices is an Australian edition of a Canadian publication called Multi-faith Practices: Guidelines for Caregivers. Published in 2014 by the Schlegel-UW Research Institute for Aging, the Meaningful Ageing edition has revised and updated the original for both Australian and aged care contexts. Input was given by key representatives for each religion. After the launch, Meaningful Ageing Australia was overwhelmed by interest in and positive comments about the resource; a testament to the gap it fills.
The guide provides easily accessible information about major faith groups, specifically written for aged care. It covers six religions: Buddhism, Christianity, Hinduism, Islam, Judaism, and Sikhism. Each chapter provides an introductory overview for each religion of their:
Beliefs and values
Sacred texts
Holy days, holidays, and ritual observances
Late life celebrations
Caring practices during illness
End of life practices, which is especially important during end of life care
Readings and prayers
As Ilsa Hampton, CEO of Meaningful Ageing Australia, writes in her introduction to this guide, "If we are truly committed to helping people to live and die well this means understanding each person in a way that honours who they have been, who they are now and who they are becoming. Lists of statistics on their own will not help us with this, but it can be useful to see the amazing mix of backgrounds brought by both the workforce and the older people they are supporting."
The guide is an ideal and handy quick reference for any staff member who wants to begin increasing their own awareness and knowledge of the different backgrounds from which their clients may come.
The guide is now available free to Meaningful Ageing members in either a printed or electronic copy. The guide will be available to buy for $20 by non-members in October 2021 – VISIT THE WEBSITE TO OBTAIN A COPY