Jewish Care Victoria has launched a new film to commemorate Holocaust Remembrance Day (24 April) that features emotive interviews with survivors about what they saw and experienced during the Holocaust.
The people interviewed are all connected to Jewish Care as clients, aged care residents, volunteers and donors.
"It has been 75 years since the 'Shoah' (Holocaust)," said Marilyn Kraner, Manager Individual & Family Services at Jewish Care Victoria.
"As time continues, those who have experienced first-hand the atrocities are disappearing. Capturing their stories through films, books, theatre et cetera plays a significant role in ensuring history is not forgotten."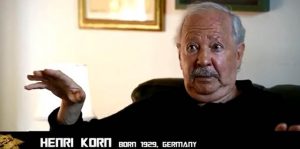 The film, 'Lack of Humanity', is the fourth in a series called 'Rising from the Ashes' and not only serves to document history but enable people who were affected by the Holocaust to confront what happened and share their story.
It also highlights how the trauma experienced by Holocaust survivors transcends generations and impacts their children and grandchildren.
"Research, particularly in the fields of trauma, as well as practice wisdom emulating from fields of social work, psychology and psychiatry confirm the benefit of those impacted by traumatic live events having safe opportunities to tell their stories," Ms Kraner said.
"Gradually confronting what has happened to an individual – losses, betrayals, devastations – assist the person and those around them to make some sense of or at least come to terms with the traumatic experience and the associated losses."
"For Jewish victims of the Holocaust, we learn that trauma – whilst not needing to be disabling, can impact the core of victims, rendering them forever altered."
"We know our Holocaust survivors can be hyper-sensitive to loud noises, can struggle with fear about running out of food or drink; can respond poorly to being yelled at, often have nightmares and can respond negatively to being touched without being asked."
"Hyper-vigilance is experienced by some, and there is the survivors' guilt – the concept of why they survived and not others in their family is ever-present for many."
"We can also learn that those who survived are highly resilient and very alert to the suffering of others," she said.
However, it is not only the generation of people directly impacted by war or trauma who are affected.
Many baby boomers are the children of people who fought in World War II, survivors of the Holocaust or they immigrated to Australia from war-torn countries.
As people enter aged care, their own experiences need to be heard and acknowledged.
"It is well-known and now increasingly researched that the children of Holocaust survivors carry many of the burdens experienced by their parents," Ms Kraner said.
"Trauma has been passed down the generations, resulting in greater mental health issues in this generation," she said.
"What is becoming increasingly clear however is that the trauma is being passed down multiple generations – not only second generation, but also third generation Holocaust survivors are acutely attuned to the experiences of their grandparents of the time."
"They often carry a greater sense of responsibility for the community and battle similar mental health ailments as their parents."
Ms Kraner said it's important to listen to the stories of people who have survived trauma, whether it be war, depression or other losses, or genocide.
"Compassion and empathy often come from bearing witness to other people's traumas. There is much to learn from those who have experienced war and traumas associated with these."
"Not only is it important for the individual to have their story heard, but it is important for the community to listen to these stories, to bear witness to the trauma and to reflect on the experience and its impact in order to understand the individual and the world better, and to ultimately prevent such events from being repeated," she said.
"The victims of genocide clearly go well beyond those killed and those who lived through these experiences and survived. This is the Jewish people's legacy."
Two other films in the series, 'The Greatest Loss' and 'Strength to Survive' have been accepted by the World Holocaust Remembrance Center to be included in their collection of films in The Visual Centre.
Additional films on a range of topics will continue to be launched as part of the Rising From the Ashes series.
Jewish Care connects with thousands of survivors living in Victoria through the Holocaust Survivor Support Program and other community services. The Program receives funding from the Conference on Jewish Material Claims Against Germany ('Claims Conference').
Click here to view the film "Lack of Humanity" 
Note: Jewish Care warns that this video contains graphic images that may be disturbing to some viewers.