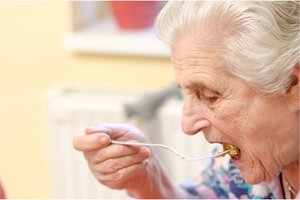 Victorian state-run aged care homes will have to meet food standards for taste, appearance and variety, as well as reflecting more diverse communities, following a review of health-service meals.
The Andrews Government this week released a summary of the review of food standards in Victorian public hospitals and residential aged care services that outlined recommendations to improve the health and appetising standards for food in healthcare.
Acting Premier James Merlino said the upgraded food standards would provide the highest quality food to patients, while also supporting local producers and economies when possible when implemented by the end of the year.
"People who are patients in a hospital or residents in care can often be at their most vulnerable, and we know food can provide an enormous sense of comfort at that time," he said.
Aged care food service has been in the spotlight since the royal commission highlighted that up to 68 per cent of residents were malnourished or at risk of malnutrition.
It found food and nutrition was critical to health and wellbeing, through taste and smell, but often there was poor quality and unappetising food.
"The consequences of poor nutrition are significant and often irreversible for older people," the report said.
"Malnutrition is associated with many other health risks, including an increased incidence of falls and fractures, increased time for pressure injuries to heal, and increased risk of infection."
The inquiry recommended food standards be reviewed within the Aged Care Quality Standards and food be improved through the increase in the basic daily fee to $10 per person per day.
The Victorian's review found good compliance with the existing nutritional standards but identified significant variability in quality across the state.
As few as two in three health and aged care centres followed the current nutritional standards in regional and rural areas.
"This included variability in foodservice models and processes, the quality of foods provided, and patients' and residents' experience of meals," it said.
It found snacks could be improved, with sweet, dry biscuits often available while yoghurt and fresh fruit were not.
Likewise, residents suggested improvements for the appearance and taste of vegetables and fruit.
Half the sites in the review provided high-fat and high-salt processed meats such as sausages or bacon one to three times a week, and about 13 per cent had them between four times a week or every day.
Under the summary recommendations, there will be an increased focus on food quality and its taste, appearance and variety, cultural diversity and healthiness.
There was increase potential for culturally diverse meals also, with half the responding facilities offering halal or kosher meals for both lunch and dinner, and one-third offering a range of cuisines for those main meals daily.
Three-quarters of residential aged care facilities provided vegetarian options for both lunches and dinners each day.
More guidance will be provided to aged care homes about enhancing the meal experience and texture-modified foods.
The review was conducted by a panel with expertise in clinical and food service dietetics, food service management and procurement.
A statement from the Victorian Government said: "We know most health services are already serving up high quality, safe and nutritious meals but these updates will ensure nutritious, high-quality food is consistently delivered in our hospitals and aged care facilities."