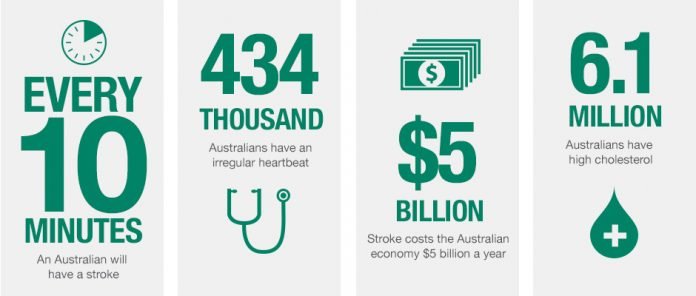 A new research grant, focused on stopping stroke before it happens, has been added to the Stroke Foundation's well-established research program.

The Nancy and Vic Allen Stroke Prevention Memorial Fund grant is one of six grants available in the 2021 round, with applications opening today.

The grant has been made possible through the generosity of the late Vic Allen, who was passionate about preventing stroke after witnessing the devastating impact the disease had on his beloved wife Nancy.
Nancy suffered four strokes which left her severely disabled before her death in 1996.

Stroke Foundation Research Advisory Committee Chair Professor Amanda Thrift said it was an honour to expand the research program with this endowment fund, which has an incredibly important focus.

"One in four people globally will have a stroke in their lifetime," Professor Thrift said.

"But stroke is highly preventable by managing blood pressure and living a healthy lifestyle. The challenge is to translate that knowledge into an actual shift in stroke occurrence. Currently stroke numbers rise year on year."

"High-quality, evidence-based research, which could lead to the next breakthrough, is needed now more than ever."

Available grants:
– Nancy and Vic Allen Stroke Prevention Memorial Fund Grant – Up to $100,000 over two years for researchers of any career stage, to further primary and secondary stroke prevention.
– Tim Glendinning Memorial Research Grant – Up to $75,000 for researchers, of any career stage, to test novel strategies to engage with young adult stroke survivors to achieve optimal outcomes.
– Early Career Seed Grants – Four grants of up to $50,000 for early career researchers with a focus on feasibility and implementation studies, that will be used to inform a larger nationally competitive grant submission.

Stroke Foundation Chief Executive Officer Sharon McGowan said researchers were being given a wonderful opportunity through the 2021 grant round to build evidence in a variety of areas that have the
potential to make a significant difference to lives.

"The Stroke Foundation's research program fosters the next generation of leaders who will pave the way forward to influence changes in stroke practice, policy and knowledge," Ms McGowan said.

"I encourage the next great thinkers in stroke to apply for a grant and help the Stroke Foundation continue its mission to prevent stroke, save lives and enhance recovery."

Stroke Foundation has awarded almost $5million to more than 200 researchers since 2008 as part of its Research Grants Program.
Applications close on Friday 4 September 2020 (5pm AEST). Application outcomes will be advised mid- December 2020.
More information about the Stroke Foundation 2021 Research Grants.