A new alliance has been formed to give independent aged care providers in rural areas greater bargaining and purchasing power, and the ability to share services in order to remain sustainable.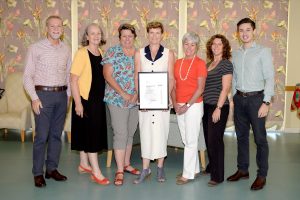 Northern Inland Aged and Community Care (NIACC) was formed last month with six founding members from the New England and North West areas of New South Wales: McLean Care (Inverell), Mackellar Care (Gunnedah), Touriandi Lodge (Bingara), Coonamble Hostel Association, Merton Living (Denman) and Fairview Retirement Village (Moree).
Sue Thomson, CEO of McLean Care, is leading the alliance and says its primary aim is to enable stand-alone not-for-profit providers in rural communities to benefit from being part of a bigger entity without losing their independence.
"There is a disproportionate number of stand alone not-for-profits of small to medium size in our region, with some having 17 or less beds," Ms Thomson said.
"The government reforms to aged care present opportunities as well as challenges. There is no question the government expects us to stretch our funding further, but it is not matching inflation or increased staffing costs."
Rather than sell out to larger providers wanting to expand their regional footing, Ms Thomson decided to bring other like-minded providers together to create efficiencies of scale and support each other.
"NIACC members aim to remain stand alone providers, we do not want to be taken over by corporates. Our services are important community assets and we believe the community voice becomes lost in a corporate model," she said.
Each founding member has a director on the NIACC board so individual needs of communities are heard, and other stand alone providers from across Australia are welcome to join.
With a combined total of 460 beds, members of the alliance will benefit from group purchasing power on things like insurance, and the ability to share resources and services such as payroll and billing functions.
"Between us we are operating six different payroll and billing systems, so it makes sense for one of the larger members to take on these services for everyone," Ms Thomson said.
As well as sharing knowledge and technology, when the home care changes come into effect next week NIACC members will "create a community of practice" that will enable everyone to expand their operations.
With most founding members located in the federal seat of New England held by deputy Prime Minister, Barnaby Joyce, NIACC has strong advantage to advocate on behalf of rural providers, which Ms Thomson says they will "most definitely" be doing.
"It's important for rural organisations to have a better say in the reforms and policy changes that are impacting our operations," she said, though emphasised the alliance is not seeking to replace or compete with the other industry associations.
David Roe, Chairman of Merton Living – the newest and smallest member of NIACC – seeks regular meetings with Joel Fitzgibbon and Barnaby Joyce to keep them informed of the challenges that rural aged care providers are facing.
"Matters like the RN 24/7 issue – we simply couldn't staff it or afford it. There aren't enough registered nurses out there for all providers to comply with such a law. If that went through, providers like us would just die," Mr Roe said.
"The government sees amalgamation of the industry as a good thing, with fewer people to deal with, but we think this takes the care out of aged care. The care we provide our clients is just as good – if not better – than a larger company that is not part of the community."
"We were told 35 years ago that we wouldn't survive, but we have. You can't replace or buy the feeling of community spirit or care that services like ours offer," Mr Roe said.
"The potential for us now is just enormous. We just have to think outside the box about what we can do."