New resources have been developed by the National Diabetes Service Scheme (NDSS) to support aged care providers with clients who have diabetes.
Around 25 per cent of people living in residential care are thought to have diabetes.
The resources include:
Diabetes Management in Aged Care: A Practical Handbook PDF or eBook
Diabetes Management in Aged Care (DMAC) has been designed to provide an accessible and practical guide to diabetes management for staff working in residential aged care facilities (RACFs). This guide has been written for all care staff, from carers to registered nurses. Its aim is to help care staff understand the basics of diabetes management without overwhelming them with complex information about advanced clinical care.
Diabetes Management in Aged Care: Fast Facts for Care Workers PDF or eBook
This resource contains information about diabetes in older people and how to manage diabetes in a residential care setting. The Fast facts have been written for care staff. The information in this resource has been drawn from the 'Fast facts' sections at the start of each chapter in Diabetes Management in Aged Care: A Practical Handbook. For more information on any of the Fast facts topics, see the Handbook.
Audit Checklist: Management of Residents Who Have Diabetes
An audit checklist for management of residents with diabetes has been developed with the aim of assisting residential aged care facilities (RACFs) to reach accreditation standards in regards to their residents living with diabetes. The audit checklist has been developed with input from RACFs, the Older People with Diabetes National Development Program Expert Reference Group and the Australian Diabetes Educators Association.
The audit checklist can be completed electronically or printed and completed. All evidence should be documented in the checklist and also on the resident's file.
If gaps are identified through the audit the following resources may be useful in bringing these up to the required standard:
• The McKellar guidelines for managing older people with diabetes in residential and other care settings
• The McKellar way – how to use the McKellar guidelines for managing older people with diabetes in residential and other acre settings.
Diabetes and emotional health handbook 
In addition to these products, the NDSS has also released a handbook for health professionals supporting adults with type 1 or type 2 diabetes.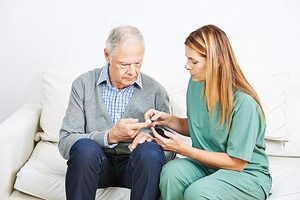 The handbook offers strategies and tools to better recognise emotional problems and to work with people with diabetes to reduce the significant psychological burden that can be caused by diabetes.
One of the chapters in the handbook, Diabetes distress, focuses on the emotional distress resulting from living with diabetes and the burden of daily self-management.
Professor Jane Speight, Foundation Director of the ACBRD, said it is important to remember that emotional and physical health are equally important for diabetes management.
"Our previous Diabetes MILES study showed that diabetes-related emotional problems are common, and they are just as serious and deserving of attention as the physical complications of diabetes" Professor Speight said.
"For example, we found 1 in 4 people with type 1 diabetes and 1 in 5 people with type 2 diabetes experience severe diabetes distress. Importantly, the main concern for people with diabetes is worrying about the future and the possibility of serious complications."
Dr Adriana Ventura, psychologist with the ACBRD, said it's important for health consultations to include the opportunity for the person to express how they are actually feeling about life with diabetes.
"People with diabetes often want opportunities to talk about their emotional wellbeing with their health professional. Diabetes distress is a common emotional response to living with diabetes, but it can fluctuate over time and may peak during challenging periods such as soon after diagnosis or during changes in treatment regimen, so it's important to have the conversation regularly to prevent it from becoming severe," she said.