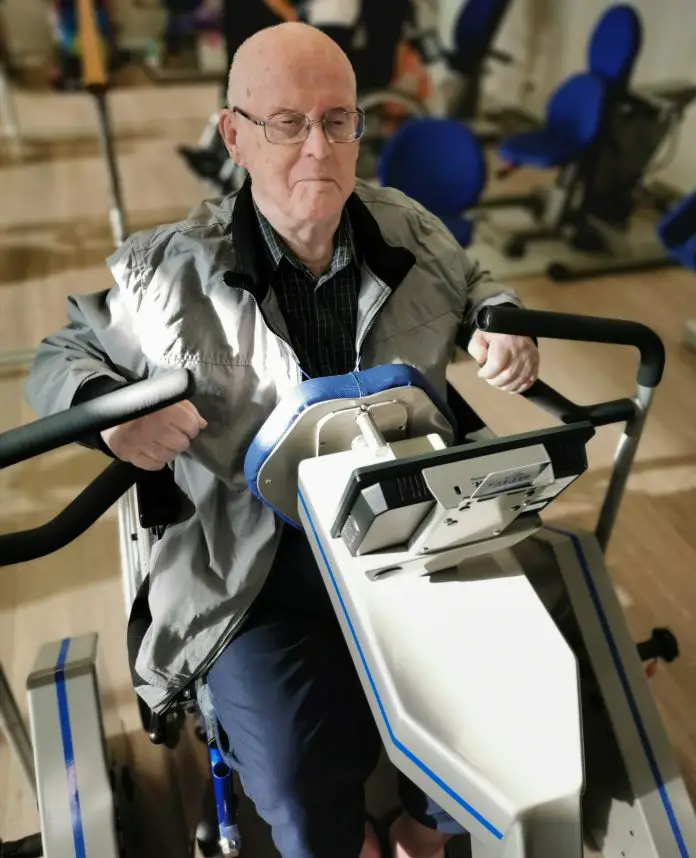 While the world remains in lock down, residents at an aged care facility in Queensland are focused on continuing their training for a once in a lifetime opportunity – a walk around Europe.
The daily steps each resident takes on the cross trainer in the onsite gym are tallied up and added to the team's goal of achieving each residents personal best. It matters little how many steps but more the consistent and committed participation by each resident.
The residents have already walked around Scandinavia and are heading to the United Kingdom next. At the rate they are going, they will have walked Europe by the end of next year, without having crossed a single border.
Team-based competitions like this are just one example of the benefits of an onsite gym and are a great motivator for people to try that little bit harder, says Annette Pekkarinen, FinnGym Coordinator at Finncare.
Annette has seen how exercise, encouragement and shared goals can help people with physical impairments or frailty to gain strength and confidence.
Setting up an onsite gym
The need for a gym at Finncare was originally identified to support falls prevention initiatives. Research shows improved balance and reduced falls in aged care homes where residents undertake leg strengthening exercise.
Most of the residents at Finncare are aged over 80 and many use wheelchairs or have limited mobility due to disability or frailty, so it was important to find suitable equipment that people could use safely, with limited assistance and still see physical improvements. 
The exercise equipment supplied by HUR Australia, met all the criteria.
Many of HUR's exercise machines are designed to be used in a sitting down position and utilise compressed air for resistance, rather than weights which have to be changed manually. The starting resistance can be near zero which allows even the very frail to train, and also allows for 100g step increase of resistance when progressing in training.  The technology facilitates safe yet goal driven training for everyone.
An individual smart card contains the users' profile, program and resistance settings, which the machine automatically reads and applies. Showing the card to the equipment sets the resistance and training mode, but also stores all the information that can be monitored by the trainer
and shared with a treating physician or specialist upon request, giving important information on the trainer's physical health. 
Finncare ordered an initial five pieces of equipment and has slowly added to its collection. Five years' ago, the facility was expanded which led to an opportunity for a purpose-built space for the gym. The dedicated gym now supports a whole-body wellness program which is also open for the community.
"The most popular pieces of equipment in our gym include the recumbent cross-trainer, which can be used by anyone, the rowing machine, lat pull and leg extension equipment which help to stretch and strengthen your arms and legs," Ms Pekkarinen said.
"It's all very easy to use – it's easy for people to get on and off, it's safe and all that we really need to do is encourage people and make sure they actually stop and have a break when the machine reminds them to do so." 
"Our people range from being 80 years old to the high 90s. They'll do 30-45 minutes on a cross trainer, then use strength machines. We had a challenge on for two years to collectively walk around Australia, which saw residents and clients walk 18,478 km or 20,880,140 steps. Now we're going further this time around Europe."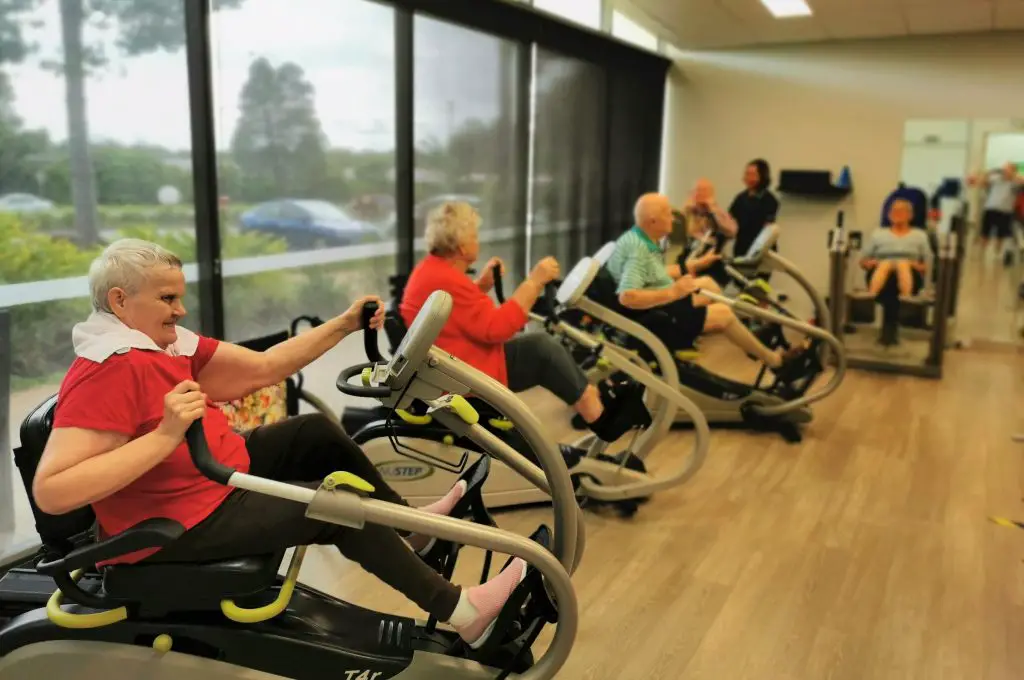 This ease of use has enabled the gym to remain open during the Coronavirus lock down, with the need for only one member of staff to be present to support up to four residents doing a workout at a time.
"Usually there will be two staff in the gym with up to about eight people doing their exercises. I work in the gym on my own now so that we can meet the social distancing rules and to reduce the number of people our residents come into contact with. We've spaced the machines out a bit more and increased what were already very high hygiene practices."
Having a collective goal has helped to motivate residents to continue with their exercise while the rest of the country has been locked down, Annette says.
"We've had some people coming in five days a week or even twice a day. It's a nice place to chat, to socialise. In normal times, the social opportunities that come from visiting our gym are one of the biggest benefits. This applies to the wider community too, as people who may live on their own and rather than stay at home and sit on the lounge, they come in do their exercise and have some social interaction and they all encourage each other to push that little bit further."
Finncare has been able to keep its gym open for residents because it went into community isolation before the Government put the strict measures in place for aged care providers. 
Open to the community
In normal times, the gym is open to the general public and people can purchase a monthly pass for unlimited entry or a 10-visit pass. The wider community accounts for between 700-800 gym visits per month. The opening hours are 7.30am-4pm Monday to Friday and 7:30am-11:30am on Saturdays.
Many people are preparing for surgery, such as knee operations, and want to improve their strength prior to the surgery. Often they return to the gym after completing their rehabilitation because they have seen the benefits of the strengthening exercises they had been doing.
Some people are referred by their doctor and use EPC or CDM and get Medicare to pay for their assessment. Everyone who joins the gym receives a personalised program that is set up by an exercise physiologist.
"We have been really fortunate that we haven't needed to advertise. Most people come to us through word of mouth. We did one session where our physiotherapist went to the local GP to talk about the gym and how we can help people," Annette said.
"Mostly referrals to us have come from people going back to their GP after surgery, who then asks what they are doing because they're so much better."
Some GPs have seen such marked improvements they are now looking to set up their own gyms as part of their practice.
"The improvements that we see in residents and clients really do make a difference to their quality of life," Annette said.
"People who have never exercised a day in their life will come back to the gym because they enjoy the social connections or the feeling of achievement. Watching our residents reach their goals, whether they are quietly getting on with it or encouraging one another to take that extra step, is the best part of my day."
Sponsored by HUR Australia – http://www.huraustralia.com.au/