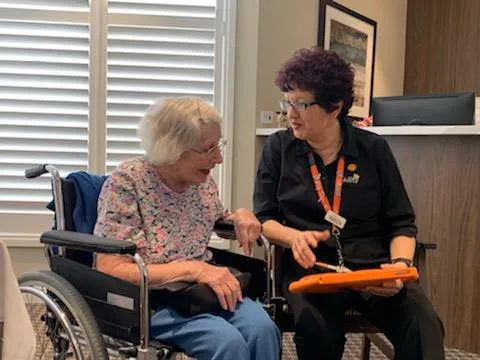 Two in five residential aged care homes still do not have systems in place so residents can contact their family members during lockdowns, an Aged Care Quality and Safety Commission report has found.
The Commission revealed the lack of remote access in its Residential Care Visitor Access Survey report, which assessed facilities' handling of visitors for the "COVID-normal operating environment".
The report said services were focused on making sure visits were positive for the health and wellbeing of residents, and most services were complying with the rapidly changing Public Health Directions and industry code.
"Although a high proportion of services allow in-person visits, many are not enabling remote visits," the report said.
"Approximately 40 per cent of services do not have systems to facilitate contact between residents and families/representatives during periods when Public Health Directions mandate lockdowns.
"For the health and wellbeing of residents, it is vital that residents have a continuous connection with their families/ representatives, even when physical contact is restricted."
The Royal Commission into Aged Care Quality and Safety highlighted the importance digital transformation across the entire sector, from assessments to supporting home care and enabling better quality care in residential aged care homes.
"Aged care providers should be actively supported to adopt new technology and to support older people to engage with technology that improves their quality of life, wellbeing and care," the final report said.
The ACQSA report said even during lockdown periods – such as Brisbane's two-week lockdown of aged care that eased on April 15 – visitor access should be maintained. This could be through the use of technology or window visits.
"It is important that services continue to offer the option of remote visits, and that this option can be rapidly implemented if Public Health Directions impose mandatory visitor restrictions," the report said.
Novigi Health, Aged Care and Community Services Client Partner Jason Malone said it was a critical time for the industry's uptake of technology. Novigi is an advisory and data services firm working across a range of sectors, including aged care, in digital insights, automation and transformation.
"Visitor access and clinical record management are prime examples where Aged Care Providers need to undergo digital transformation, not only to enhance operational efficiency for the business, but also to improve quality of care for their residents," he said.
"It is undeniably essential to innovate methods of maintaining resident's connections with their families during lockdowns, to decrease harmful anxiety levels and feelings of isolation.
"Operationally, paper-based recording is no longer a sustainable method of data management, especially after the Royal Commission's emphasis on the importance of data to the industry in provider's compliance and usable insights."
The ACQSA survey of 2717 aged care services was conducted between mid-December and mid-January, with almost 95 per cent responding.
More than 96 per cent allowed visitors over the period with two in three offering both in-person and remote access. Only 4 per cent allowed only remote visits and 64 per cent used video and telephone calls for visits.
"In most cases, remote visits were available daily and during a broad window of time, although a small number of services only offered narrow windows of time during regular business hours," it said.
"There was a correlation between services that only allowed remote visits during a restricted window of time and those receiving complaints about lack of visitor access."
About half the facilities received complaints about visitor access. The majority of those concerned families or visitors not being able to see residents at their preferred time, or technical issues with technology-supported visits.