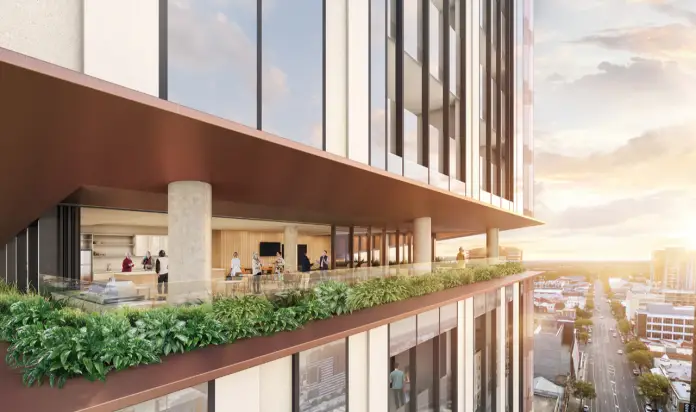 Adelaide's new U City development in the heart of the CBD has reached a key milestone  with the building 'topping out', as construction reaches the final 20th level of the project.
U City is a landmark mixed-use development for Adelaide, combining residential and commercial uses in the heart of the city, including specialist disability apartments, accessible accommodation, retirement living, commercial spaces and a function centre.
It will also be the new city hub for Uniting Communities, offering a range of social services including crisis support and counselling. U City is an entirely new concept in housing for Adelaide CBD, bringing more flexibility and choice to the market for people living with high physical support needs.
Today's construction milestone also has key significance for Uniting Communities as the 'topping out' releases a further $1.116m of state government funding, which is dedicated to the construction of the development's purpose-built short stay accessible serviced apartments.
Minister for Human Services Michelle Lensink said it was really exciting to see this unique development come to fruition.
"This new development brings a range of accommodation and services together for South Australians, including bringing people living with disability into the vibrant city community," Minister Lensink said.
'Topping out' also signifies a further investment of $250,000 of federal government funding for assistive technology enhancements of the building's specialist disability accommodation, providing longer-term rental accommodation options for people living with high physical support needs.
Uniting Communities' Chief Executive, Simon Schrapel welcomed the milestone saying it marked a significant step in both construction and surety of funding.
"We're delighted with the progress of the project and this means we are now officially one step closer to welcoming our first residents moving into this stunning development in the second quarter of 2019," he said.
U City is also leading the way in sustainability, having been recently recognised as South Australia's 'greenest' building design to date by the Green Building Council of Australia, designed to use 45 per cent less energy and 30 per cent less water than a comparable new building.
Its key design features include an embedded electricity network, a 55-kilowatt solar PV array on the roof providing renewable energy, gas boosted solar hot water and sustainable transport options such as bicycle racks and electric-car charging stations.
The U City development is a new concept for vibrant inner-urban living, proudly putting together non-traditional uses within the one building.
With community very much at the heart, its Adelaide CBD premises also provides retirees who want a low maintenance lifestyle with everything they need close by, as well as offering a variety of options for short and long-term accommodation for people living with disability, along with commercial, retail and public use spaces.
U City is scheduled for completion in April 2019.