This article is part of our showcase of the 2020 Future of Ageing Awards. Dementia Australia's Enabling EDIE™ workshop was awarded highly-commended in the technology – health and wellbeing category.
The Australian designed Enabling EDIE™ workshop is a dementia education experience that has been delivered to more than 8,500 participants since its launch in 2017.
The workshop aims to help carers improve their understanding of dementia in a bid to improve their interaction with the sufferer. It utilises a mobile virtual reality (VR) platform to give the user an immersive experience that enables them to see first-hand the challenges faced by people living with dementia.
The 3-hour immersive session explores what it may feel like to live with dementia, care for someone living with dementia and to work in partnership with that person. The workshop focuses on identifying support needs and developing a plan to live more confidently.  
It is delivered to professional carers as well as family carers, architects, industrial and interior designers, urban planners and students in a group workshop style. The national program has expanded internationally with training workshops successfully running in Canada, Singapore, Czech Republic, Germany, Austria and Switzerland.
How it came together
Progressing from traditional training using Powerpoint, group discussion and case studies, Dementia Australia began offering experiential training in October 2013, with the launch of the Virtual Dementia Experience™ – a world-first that created an immersive experience – visually, audibly and interactively.
The workshop was ground-breaking at the time, but required participants to travel to Parkville, Melbourne and was limited to 15-20 students per workshop.
With the evolution of VR headsets opportunity arose to adapt the technology to create the 'mobile' version that enables the training to be delivered in-situ anywhere.
Remote communities in Cape York and some of the Torres Strait Islands have benefitted from workshops being run for health workers and the local community.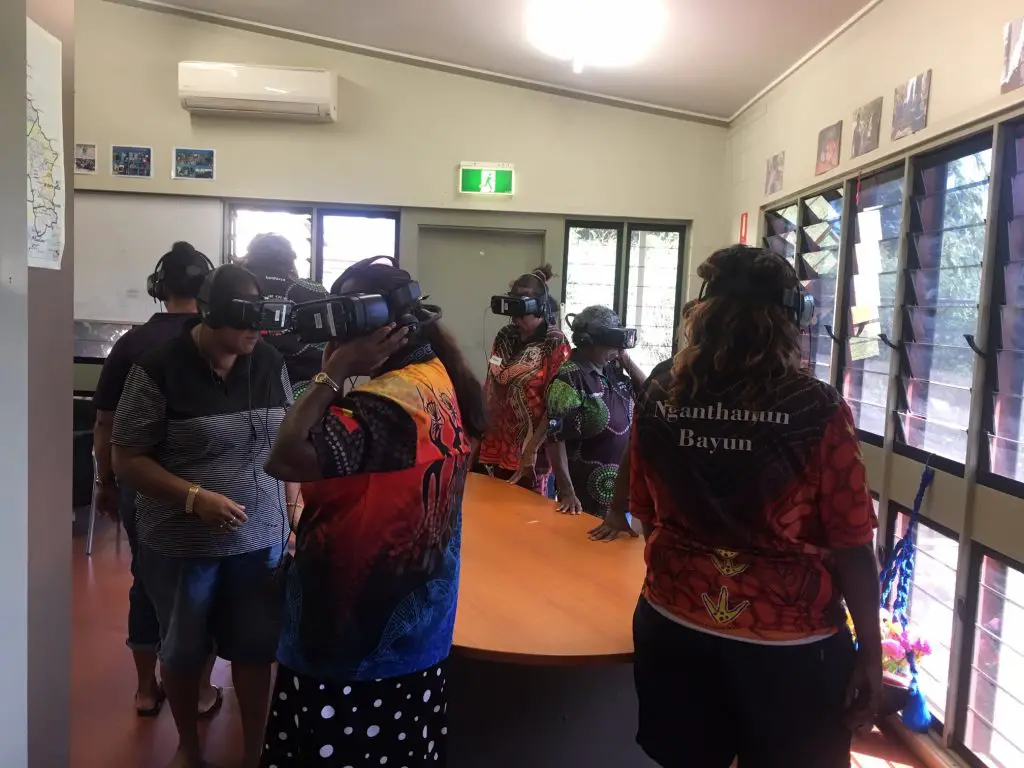 Funding was gained through the IOOF Foundation and the Rosemary Norman Foundation, based on the success of the Virtual Dementia Experience™. The application was developed by Deakin University Applied Artificial Intelligence Institute. The development process included consultations with people living with dementia and their carers as do ensuing evaluations.
Outcomes
An independent Swinburne University evaluation found participants, when compared with participants in a non-VR workshop, gained empathy for a person living with dementia. They identified more dementia-friendly elements and responded from the perspective of a person living with dementia, rather than a carer's perspective. This showed the VR experience moved a carer's perspective and improved care practices, helping people living with dementia to live an improved quality of life in residential care and the community. 
Stanford University studies and the Swinburne evaluation showed that VR increases empathy which is required to motivate changed care practice. For Enabling EDIE™ the evaluation showed VR experiences help increase knowledge and empathy and the understanding had a greater improvement for those from a non-English speaking background.
The Enabling EDIE™ program is Dementia Australia's fastest selling workshop for dementia care education to the aged care sector, including residential care, home and community care, health, retirement living and disability.
Testimonial from Sara McDonald, Case Manager, Sacred Heart Mission:
"It really hit home for me that this is what a person is experiencing 24/7. I get to take the headset off but a person with dementia is living with potentially constant confusion of noises because of the lack of ability to filter – a ticking clock might be a pounding noise for them, a long dark shadow might be scary or look like a big gaping hole. All those examples combined could easily make it challenging for someone to manage what seem like simple tasks to us. And if they are unable to communicate their fear or confusion that would add to the stress of any situation. I know now that I can make a difference by influencing how the person in my care feels. If I remain measured, calm and patient this sets the tone for the environment around us. I'm not going to make major design changes in every home I got to, but I can step back and take stock of the lighting and other elements that might be causing confusion or creating tension."
Testimonial from a Doctor of Clinical Psychology Student / Provisional Psychologist:
"As discussed today I would like to let you know about a shift that I really noticed in the Farrow wing following the EDIE training. I noticed staff taking more time, being calmer with residents, validating their emotional experiences, and just generally being more supportive of residents rather than being firm and directive with their interactions.
In particular I wanted to compliment Leah, who had an absolutely beautiful and warm approach to a resident who has been highly distressed and confused during my previous visits to my clients. She was calm, relaxed, and I really believe this was due to Leah's approach and changes to the approach from staff in general.
I also had feedback from a family member in the carer support group last night, where she reflected that she had noticed a massive shift in the approach staff had taken in the past week, which she had noticed while spending time with her mum. She had also had a conversation with a carer who has worked at Nangatta for a long time, who told this family member that her approach and perceptions of how to best support residents with dementia had completely shifted following the EDIE training."