Aged care leaders have come together to discuss and address key issues relating to the practical implementation of the aged care roadmap and build on the work that has already been done ahead of it being put to Cabinet for formal Government adoption.
The forum, led by Aged Care Minister Ken Wyatt AM in Sydney yesterday, gave providers a chance to share their thoughts and ideas about the roadmap with Government and Departmental representatives and members of the National Aged Care Alliance.
Delegates were told more work needs to be done to find the right path for providers and to focus more on the consumer's journey through aged care.
Through a co-design approach to engage providers in the process that ultimately impacts their services, over the course of the afternoon delegates had to analyse and discuss sections of the roadmap before presenting two key messages back to the group.
Deregulation of supply; inconsistent pricing, fees and language; barriers to access; improved data; support for innovation; and the need for different mechanisms for rural and remote providers were identified as some of the key areas that need more work.
The need for consumers to better understand aged care options and plan for their care well ahead of needing it, and for services to meet people's individual needs – especially if they are expected to contribute more to their cost of care – were also recurring points of discussion.
Other points of concern raised were how aged care would be funded into the future, the pace of change and the importance of sequencing of each aspect of reform.
"It's been refreshing the way in which the discussions at the tables were quite rigorous. Nevertheless, people exchanged ideas they contributed to their thinking on some of the key elements of the roadmap," Minister Wyatt told Inside Ageing in an exclusive interview after the event.
"The thing I am really encouraged by is the constant message 'we need a roadmap, we have a roadmap, and we want the roadmap to remain in place as the framework that guides them for the next – as I see it – 50 years."
He said that while he ultimately wants Government to adopt the roadmap as a framework and utilize it to support integrated thinking about ageing and aged care across other portfolios, it's not ready yet.
"I won't be taking this to Cabinet yet. We've got to look at what the points of connection are. The primary health networks should also be doing this work now on the ground. They should be linking with their aged care providers asking about – particular, access to primary health care, access to tertiary hospitals and other services they would normally see provided by state health systems," he said.
"In addition to that is the connections with other government agencies because this is not just about ageing in residential care, it's about the independence of people who choose to live at home, remain at home longer but lead a life that realises their expectations."
"And people living in residential aged care facilities still have hopes and aspirations so we need to address that," he said.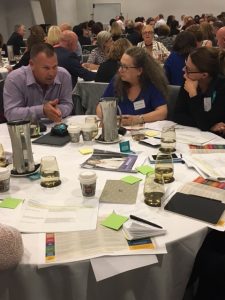 However, the Minister said he has begun the conversation with other Members of Parliament.
"I've spoken to three colleagues about the construct of an ageing Australian society and that ageing is not about going into residential care, it's about the continuum of life from ages 0 to 105."
"On that continuum there are groups who need special interventions or need support and I certainly want to focus on that."
"Once we have a framework, we can all work in a common direction and we commit to that common direction through the way in which we focus our thinking, provide focus and attention to the standards and the quality of care that people in circumstances receive," he said.
The invite-only event was carefully curated to ensure full representation from every state and territory and every type of service provider, Minister Wyatt told delegates in his opening address.
He said earlier discussions with providers in rural Victoria and New South Wales led to his decision to bring a larger group of providers together to further build on the initial roadmap developed by members of the former aged care sector committee.
Despite the day being overall very successful, the Minister has no plans for another industry forum to address the roadmap but will continue discussions with providers he meets in coming months.
"The two comments from each table threw up a number of critical issues we need to do more work on and I will at times invite a group of people to come and meet with me and discuss elements of that."
"I also will be looking for that now when I'm out in the field talking to people. If I'm in the Pilbara or Tasmania for example, I'll invite a couple of people to come and sit with me and talk about the issues so I can hear what it is that they want to say about how important the process is but what they're also considering in the way they implement it on the ground."
The input provided by the forum delegates will be shared with NACA to progress its blueprint, and once it has the full support of the aged care industry it will be taken to Cabinet.
The Minister said this was not likely to occur before July, given other areas of reform underway including the aged care legislative review.
What do you think? Comment below or email us – news@insideageing.com.au