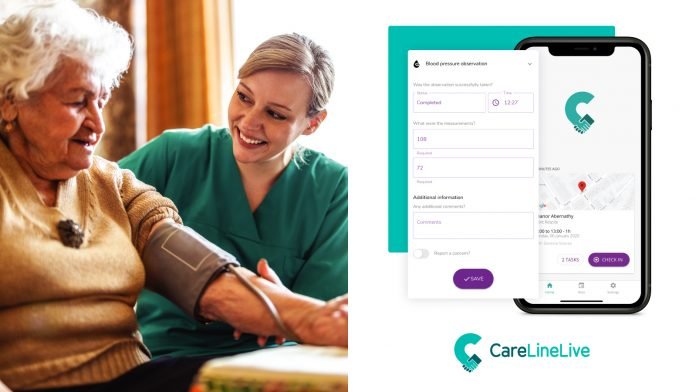 CareLineLive, a care management system for home care providers, has today announced its launch into the Australian market with a platform designed to give providers visibility of workers and reductions in admin time and costs.

With existing customers in the region including Home Care Nurses Australia and Vitalis Health & Home Care, CareLineLive helps managers and carers to stay connected, which has become more challenging as a result of the Covid-19 pandemic.
With many carers travelling long distances between clients and potentially the office, CareLineLive's software is designed to help reduce the number of visits to the office without any reduction in the information flow between the office and carers.

Alongside the time-saving benefits, CareLineLive's web-based management platform and Carer Companion mobile app also empowers agencies and carers with real-time information around medication, tasks and observations, helping carers to provide high quality, person-centred care.
Compliance and safeguarding are also improved via the mobile app, as providers are able to identify and respond to any issues as they arise. Any concerns with the client can be reported via the app, and key stakeholders can be kept up to date with visits and care.

Josh Hough, Founder and MD, CareLineLive, commented: "With the pandemic, it's never been more important for the families of clients to be kept up to date with their care. Using the app means that carers can take photos and log client observations, such as blood pressure and wellbeing, in real-time, meaning that office-based staff – who might not be in close vicinity to the client – can be responsive and advise on the required treatment. In care, communication is king, and we are empowering carers to have consistent and up to date communication with their managers, other carers, key stakeholders such as health professionals and families."

Busi Faulkner, Managing Director at Home Care Nurses Australia, added: "Before using CareLineLive, my challenges included tracking carers to see if they had actually attended a shift, and seeing documentation in real-time. Australia is so big and it can take an hour to drive between places, so supporting carers and helping them to work remotely is something that was very attractive to us at Home Care Nurses Australia."