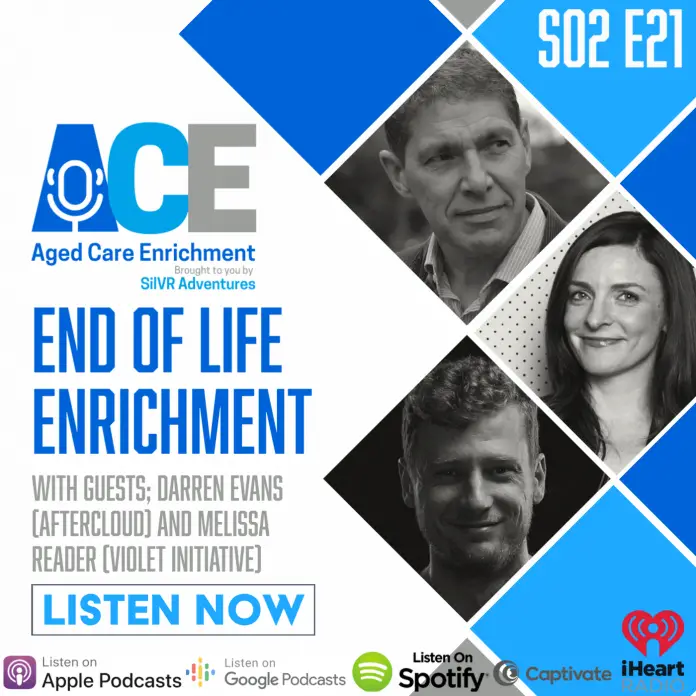 On Tuesday, we have a two part episode with two great guests. With the help of Darren Evans from AfterCloud and Melissa Reader from The Violet Initiative, we'll be focusing on end of life care and how we can transform the final stage of life into a more positive and meaningful experience for everyone.

First up is Darren Evans, who's talking about his company AfterCloud, which has created a close group digital sharing platform for people at the end of their lives and beyond. Darren has a lot to say about how technology can be used to enrich the final stage of life and provide a personalised and private digital legacy.

Next, we have Melissa Reader from The Violet Initiative to talk about how we can eliminate regretful outcomes at the end of life. Melissa shares with us how regretful death adversely affects not just the community but also how it impacts aged care workers and businesses.
One additional note, if you're enjoying this podcast, then what's the best way you can support us? Easy, please share an episode with a friend or colleague, and help us keep building our highly engaged audience. If you're thinking of someone right now who might like what we do, then we'd love it if you could send them your favourite episode to have a listen!

The Aged Care Enrichment Podcast is proudly brought to you by SilVR Adventures. Subscribe and check out our back catalogue of available episodes on Apple Podcasts, Spotify, iHeartRadio or wherever you get your podcasts from or online here:https://silvradventures.com.au/podcast/