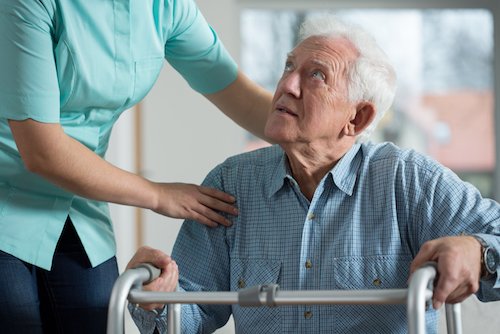 Australian aged care workers are being applauded for their everyday efforts – and their extraordinary work during the COVID-19 pandemic – ahead of an annual day of recognition for carers. 
A new campaign from Leading Age Services Australia ahead of Aged Care Employee Day 2020 next month highlights the commitment and care of the 365,000 workers in the sector.
Leading Age Services Australia chief executive officer Sean Rooney said aged care workers had come into the national spotlight this year, for their dedication to the 1.3 million older Australians.
"Despite some sad losses and testing times, there is no doubt the commitment of our nation's tireless aged care staff has helped save many lives this year," he said.
"We salute them because they all play vital roles – from nurses, personal care workers and allied health professionals, to chefs, cleaners, gardeners, managers and volunteers."
It comes as Australia continues to defy international statistics on the spread of COVID-19 in seniors' living and aged care.
The most recent official data from the Australian Government, released yesterday afternoon, said there had been 71 confirmed cases of COVID-19 in residential care.
Of these cases, 31 people have died. Thirty-three cases were in-home care recipients and three of people have died.
Across Australia there have been 104 deaths.
While these cases highlight the global pandemic's tragedy and impact, the proportion of care-related deaths is significantly lower than in other nations.
LASA said less than one percent of confirmed cases were in residential facilities.
This compares to major outbreaks internationally. The Medical Journal of Australia reported the World Health Organisation estimated more than half the deaths across Europe were in long-term care facilities.
In Canada, 81 per cent of deaths from coronavirus were in long-term aged care. It has been reported that there have been outbreaks in about half the care homes in the United Kingdom.
ABC Health Report journalist and prominent voice in the COVID-19 pandemic, Dr Norman Swan, has praised the sector for its approach and results.
"If Australia was handling it badly we would have outbreaks all over the place in aged care but there have only been a handful," he told LASA.
"That must be credit to how aged care is coping with the situation."
He warned on-going vigilance from staff and management was critical to maintaining control in the spread of the virus.
"None of us can let out guard down," he said.
Health Minister Greg Hunt has paid tribute to the aged care sector, noting results were far ahead of what was anticipated.
"We owe a debt of gratitude our aged care workers and to our providers," he said.
"I want to thank them for their courage in turning up each and every day."
An Essential poll last month found more than two in three Australians supported the right of aged care homes to ban visitors, with limited exceptions for compassionate grounds.
The poll of 1093 people found 69 per cent support for preventing visits, while 10 per cent opposed the restrictions.