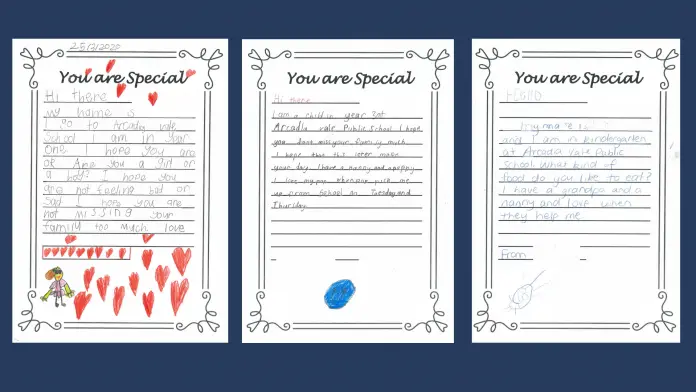 Anglican Care has ramped up its "connecting generations" program to help ease social isolation and loneliness for both children and aged care residents.
"Connecting Generations" is a way for families and people in the wider community to share pictures, letters and cards with people in aged care who are unable to have visitors at this time.
While social distancing remains a priority for everyone, staying socially connected is what will see us all through it. 
"People still need to make meaningful connections with one another but fulfilling that need may look a little different for a while. National restrictions on visitors to Anglican Care means our residents won't be able to see anyone under 16 and for many of them this loss will be upsetting," said Kylie Jacques, Anglican Care Marketing Manager.
This crisis presents a great opportunity to teach younger Australian's the importance of giving back to others, understanding how much we can learn from our elderly and how the littlest of things can make someone's day.
Anglican Care is inviting children to write letters, cards or colouring and pictures to the residents living in our residential aged care homes.
To overcome infection control issues, all correspondence is uploaded to the Anglican Care website, where it will be downloaded and printed for residents.  Anglican Care's website has been quickly re-designed to enable this and focus on social connection.
"This is just a small way to get children involved in helping people feel better in their community. And who knows, it may also help some of the parents out there undertaking homeschooling duties," Ms Jacques said.
Dee, 12, and Olive, 8, have been homeschooled for the past week but found they were missing their friends.
"We thought that the Anglican care residents might be feeling the same way.  So, we talked with mum and decided to write letters to stay connected and we are super excited to hear their reply and to make some new friends," said the girls.
Dee and Olive's mum, Laurie, is familiar with Anglican Care for many years the official photographer for the organisation.
"I have spent so much time with the Anglican Care family, and I know it would be an extremely difficult time especially for the more social residents. When the girls asked if they could send letters to help them feel more connected, I jumped at it," said Laurie of 3L Photography.
Arcadia Vale Primary School has already jumped on board the project, with 11 students sending beautiful letters via their teacher to several aged care homes including Jesmond Grove, Scenic Lodge, Toronto Nursing Home, Carey Bay Gardens, Kilpatrick Court, Greenmount Gardens and MacIntosh Nursing Home.
"Our Connecting Generations program is a core element of life at Anglican Care and it is more important than ever we continue it," said Kylie Jacques, Marketing Manager, Anglican Care.