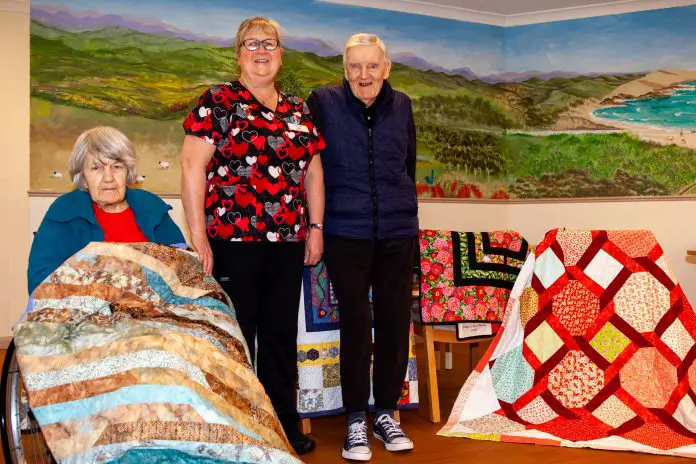 For Enrolled Nurse, Deb Hayden, working in the Memory Support Unit at Baptistcare William Carey Court Residential Care in Busselton, is a unique opportunity to enhance the lives of some very special residents living with dementia.
But her care and compassion doesn't end when her shift finishes. It regularly extends into the evenings and the weekends when the dedicated quilter works on her passion project.
Over the past two years, Deb has created 17 beautiful, handmade quilts – one for each resident who calls the Memory Support Unit home.
"It started with one quilt, but when I saw the wonderful reaction from that first recipient, I knew I wanted all the residents to know they are special," she said.
"The quilts keep the residents cosy and helps to brighten up their rooms."
It takes Deb approximately three months to make each quilt, but she says the hard work is worth it when she sees how much the residents love them and the happiness they bring.
Deb, who started at Baptistcare William Carey Court as a Pantry Assistant 18 years ago, believes working in aged care is the perfect fit for her.
"I love every minute of what I do and helping people brings me so much joy," she said.
Baptistcare CEO, Russell Bricknell, said aged care workers like Deb play an extraordinary role in enriching the lives of seniors living with dementia.  
"It is inspiring to see people like Deb, who go above and beyond for the people who entrust us with their care and support.
Inside Ageing welcomes stories to do with those people going the extra mile. If you know of someone who is leading the way through their actions please let us know.