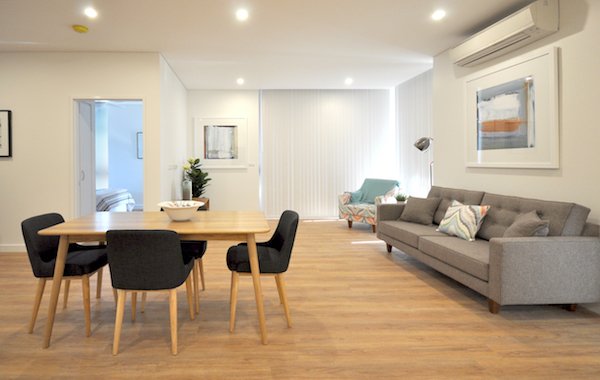 One of WA's largest single-site retirement living and aged care providers has opened the doors on its latest luxury development for retirees.
Akora, located amidst landscaped gardens in SwanCare's Bentley Park community neighbouring Curtin University, encompasses 44 architect-designed apartments in a range of configurations.
It is the first stage of SwanCare's $80m planned redevelopment of its Bentley site, which will see a state-of-the-art 120-bedroom aged care facility and proposed leisure precinct with indoor heated pool, gymnasium, meeting rooms and a contemporary resident's lounge built later this this.
"Our new care facility will set the benchmark for a modern care environment, focussing on high-end complex care, dementia and palliative care," SwanCare CEO Graham Francis said.
"Meanwhile, our new leisure precinct will bring SwanCare Bentley Park in line with the 'resort-style' retirement options that are currently available."
The $20m Akora complex provides a community environment with a strong focus on lifestyle opportunities.
"SwanCare is focused on providing an environment for people to get the most out of life and we've included features to enable people to adapt their lifestyle needs as they age, including new technology and a 24-hour emergency call system," Mr Francis said.
"Akora has been built to universal design standards, which means the apartments can easily adapt and respond as residents' needs change, a feature which will enable people to age 'in place' and receive in-home care when they feel they need it."
"For us, it's about offering retirees or people moving towards retirement better options to lead the lifestyle they choose, but with easy access to care when it's needed," he said.
Akora was designed to offer apartments with low running costs, good natural light and ventilation, and quality design standards that ensure good accessibility for residents as they age.
"Our research has shown that, more than traditional lifestyle offerings, what retirees want is to know they are moving into a community operated by a reputable organisation, and one with high standards and modern fit outs," Mr Francis said.
"Our extensive research has also revealed that retirees are embracing technology such as video intercom, sensor lighting, and high-speed internet, and these are all features of Akora, in addition to access to good public transport."
"Essentially we have listened to what seniors want in their retirement, and have delivered their wish-list in this contemporary complex."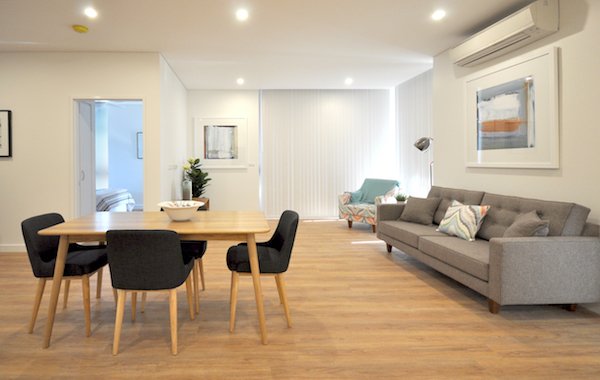 Core design features integrated into each apartment include high ceilings, water efficient fixtures and fittings and LED lighting, motion sensors in common areas and spacious balconies, many with views.
An easy-to-use electricity monitoring package in each apartment enables residents to monitor their electricity consumption and identify opportunities to save power and money, while an electric heat pump system reduces both running costs and greenhouse gas emissions associated with the delivery of hot water.
A rooftop solar photovoltaic system also further reduces the energy consumption and running costs of the entire building.Further features of Akora include a residents' lounge and ground floor cafe, mezzanine area and high quality insulation to ensure a quiet home environment.
SwanCare Bentley Park offers access to over 40 recreation clubs and activities, as well as 24 hour security, on-site medical services, a grocery store, library, meal delivery services, an op shop, hairdressers and a beauty salon, outdoor and indoor bowling greens, clubhouse, and billiards room.
The surrounding area also offers a range of recreational options with parks, swimming pools, a cinema, golf course and several shopping centre near by.
[/et_pb_text][/et_pb_column][/et_pb_row][/et_pb_section]