The overall performance of aged care providers increased again last year with 97.8 per cent of residential aged care facilities that underwent a full audit meeting all the expected outcomes for the accreditation standards.
Just four homes failed to meet compliance within the timetabled period for improvement, according to the Agency's 2015/16 annual report, which was sent to the Minister at the end of November.
Home care providers did not perform as well with about 10 per cent of  services assessed against the Home Care Standards requiring improvement.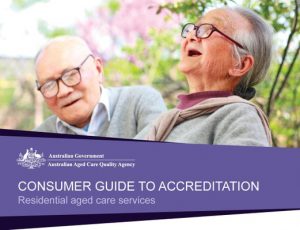 A further 34 per cent of home care providers are yet to be reviewed since the Agency began assessing home care providers in 2014.
From 2017 residential aged care providers will be charged for accreditation and re-accreditation services as the Agency moves toward a self-funded model, however, it will still be support by the Federal Government in 2017 to continue and increase unannounced visits.
A draft Cost Recovery Implementation Statement that outlines the new charges and discounts for providers with less than 25 places and those receiving the viability supplement, is with the Minister for review.
Once confirmed, the Agency said it will announce the fee structure on its website.
The Agency also announced in its annual report that in early 2017 it will be publishing a guide to accreditation of residential aged care services to help consumers understand the accreditation process.
Its website will also be updated to increase access to accreditation audit reports and the Accreditation Standards.
Later in the year the Agency will publish a short report for consumers about the experience of residents in aged care homes, containing information relevant to the accreditation standards.
At a conference held in March 2016, CEO Nick Ryan said the Agency would begin collecting data from residents and their families about the quality of care and overall experience of the aged care service, and making this information available to consumers to promote consumer choice.
It is understood the scope of its planned consumer review service was reigned in following objections from providers.