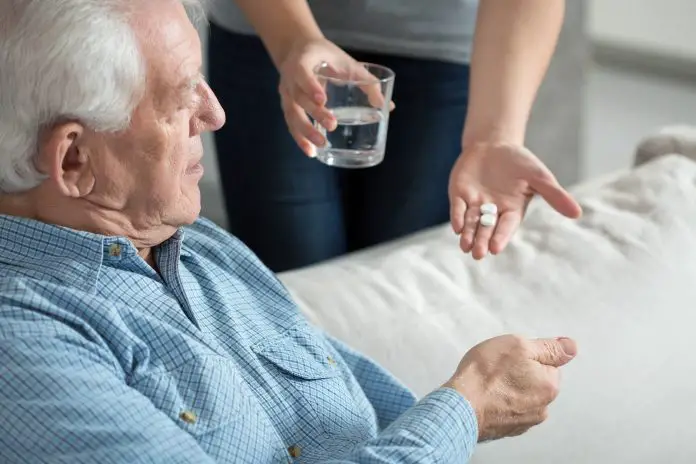 For aged care provider Carinity, making the switch to an online drugs of dependence register means less time filling out paper logbooks, leaving more time for residents.
The Queensland-based residential aged care provider uses the Modeus DiamondCare cloud-based platform across its 11 sites from the Gold Coast to Townsville, delivering a secure and efficient system to manage and track their Schedule 8 medications.
Carinity's Larissa Gear oversees the operations of the busy facilities as their Regional Residential Manager. She said the platform made the process of entering and providing medications simpler and more accessible.
"It's still got all the privacy and security of the data," she said.
"It enables efficiency in that – even simply from different handwriting in the book – and it's all there and clear."
The not-for-profit provider and member of Baptist Care Australia, Carinity, started the progression from paper logbooks to the electronic controlled-drug register early last year.
Designed specifically for aged care, the DiamondCare platform is aimed at improving efficiency, governance and administration for medications, a key compliance focus for aged care regulators.
The tech software was developed to attempt to overcome the aged care challenges of excessive time on manual drug administration, potential loss or theft, possible staff medication addition or overdoses, non-compliance and ensuing penalties, and the reputational damage that stems from it.
With its strong focus on integrating innovative information management, Carinity worked with a Modeus representative, their pharmacy suppliers and internal team members to integrate the system into their operations.
Together they rolled out the system over about a year, given an elongated timeframe due to Covid-19-related challenges.
Throughout the process they managed and refined the implementation across each of the 11 sites.
"We managed to work really well together and that all happened quite smoothly," she said.
"We had our go-live day and that's when we went from a hard copy dangerous drug book, or Schedule 8 book, then we had to transfer that book over to the DiamondCare devices."
She said the system has made the requirement for daily stock counts easier and faster.
"That definitely saves time and that is time that a registered staff member can have doing things with residents," she said.
The ability to manage medication – and the administration behind that – is a complex area for aged care providers.
Australia's Royal Commission into Aged Care Quality and Safety recommended that a new body, the Australian Commission on Safety and Quality in Health and Aged Care, should be tasked with an immediate review of the current quality standards to "raise the bar" for medication management and other elements of care.
Ms Gear said medication management was comprehensive in residential aged care.
"It's such a focused area because you're looking after those who have complex health issues and medication management," she said.
Carinity has utilised an increasing amount of technology over the last five years, she said, and have integrated more software and technology into their day-to-day processes.
"It's efficient, its secure and you can access it," she said.
Carinity Business Applications and Process Support Manager Raymond Brecknell said the system allowed improved compliance and stock management, with oversight across the system.
"One of the key benefits is our licence to operate and how we operate controlled drugs," he said.
"There can be issues with a paper-based system, with pages not filled in properly and so on, but the big part is if we get audited, trying to track through a paper system is quite difficult."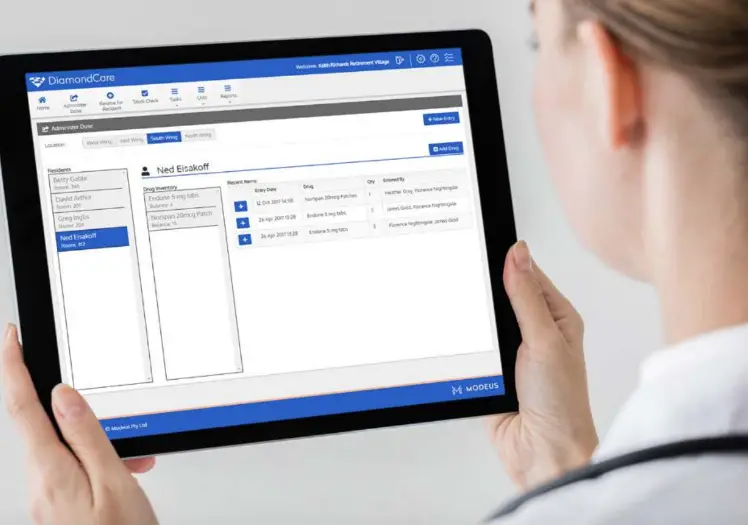 He said the real-time notifications of stock adjustments meant faster and more efficient oversight of their pharmaceuticals.
"The moment stock levels aren't correct there is a flag in the system, an alert is sent that stock levels aren't right," he said.
"It's the ability to be able to be alerted and respond quickly and backtrack all the previous transactions."
A surprising benefit, he said, was the ability to link in with their pharmacy suppliers and integrate information about their medication stocks.
"When we send an order through for these controlled drugs, they enter that directly into the system," he said.
"We click on the box that verifies the amount is correct. There is a tremendous simplification of the drug-entry process."
Mr Brecknell said the industry was under pressure to improve their systems and processes, and their move to increase their use of technology was part of a more effective aged care sector.
"We see products like DiamondCare as part of our ability to provide a service to our residents," he said.
Sponsored by Modeus