[et_pb_section admin_label="section"][et_pb_row admin_label="row"][et_pb_column type="4_4″][et_pb_text admin_label="Text" background_layout="light" text_orientation="left" use_border_color="off" border_color="#ffffff" border_style="solid"]
Emma Rippon, Managing Director & Accredited Practising Dietitian, Eat Well Nutrition Service explains why the new DAA Menu Audit Toolkit is so important for meal planning in residential aged care facilities.
Optimal nutrition is essential for the health and wellbeing of older Australians, including people living in residential aged care facilities (RACF). It is well documented that residents are at risk of malnutrition, nutritional deficiencies and other nutrition-related co-morbidities.
A key aspect of preventing such conditions is the provision of a nutritionally balanced menu and high quality meals.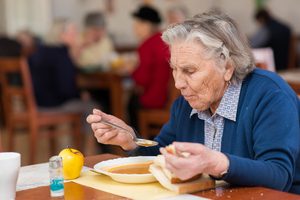 Until recently there have been no national guidelines or menu review standards for RACF. Menu reviews were largely based upon recommendations outlined in a number of documents, including the Australian Guide to Healthy Eating.
Despite this, these guidelines are developed for a younger population and do not take into account the nutritional requirements of the elderly.
In December 2016 the Dietitians Association of Australia (DAA) released The DAA Menu Audit Tool with the aim of providing a consistent approach to assessing the nutritional adequacy of a RACF menu.
The audit does not set standards for compliance, but instead assess how the RACF is meeting Best Practice Guidelines to optimise nutrition and hydration for their residents.
So what should a RACF expect of a menu review conducted by an Accredited Practising Dietitian (APD) now that the audit tool is available?
Firstly, the review tool ensures that the menu is comprehensively assessed against key nutritional factors impacting on the health and wellbeing of residents.
The menu must demonstrate that there are ample opportunities for residents to be able to consume the recommended number of serves from each of the five core food groups per day.
This cannot be determined by simply checking a paper copy of the menu, but also by observing and measuring portion sizes as they are plated, reviewing standard recipes and by reviewing purchased quantities of foods.
Secondly, site visits are strongly recommended as part of the new menu review process. This enables the dietitian to observe meal service and the dining room environment, observe plating and presentation of meals, taste test the meals, and review documentation.
Furthermore, site visits provide the dietitian with an opportunity to meet with residents, food service and clinical staff to gain further insight and understanding of the residents' and facilities' needs.
If timing or a remote location prevents a site visit, there a several steps that may be taken to ensure sufficient detail has been collected for the menu review.
These may include phone or teleconference meetings with key staff, questionnaires, portion size audits and photos of meals.
Finally, in assessing the overall nutritional adequacy of the menu one of the underlying principles of the audit tool is to assess how the menu addresses the outcomes of the Accreditation Standards.
Specifically, that the menu has been planned around residents' preferred food choices and that consideration has been given to the religious and cultural needs of the residents, as well as the food service systems of the RACF.
RACFs that meet the minimum standards for provision of the food groups and are following Best Practice Guidelines will likely find that recommendations from the menu review will focus on quality improvement activities.
These may include the development of a Menu Planning Policy or activities to engage residents and staff in the menu development process, such as food forums, satisfaction surveys, or the addition of cultural food days.
The release of the tool provides a consistent methodology and approach in completing menu reviews and in assessing the nutritional adequacy of an aged care menu.
The collaboration between the dietitian and the RACF is essential in the menu review process to ensure that the recommendations made are both practical and achievable.
Importantly, the menu review process cannot be used to guarantee the adequacy for individual residents and does not replace the need for specialist dietetic care.
RACFs should consult an experienced aged care dietitian to provide expertise with their resident nutrition and hydration management and menu reviews.
This audit tool is designed for use in the context of an entire menu cycle for residential care clients receiving all their meals.
Recipients of home care may have varying nutritional needs which should assessed on an individual basis in consultation with an accredited practising dietitian.
For more information go to Eat Well Nutrition – www.eatwellnutrition.com.au/aged-care-nutrition
References:
Bartl and Bunney. Best Practice Food and Nutrition Manual for Aged Care. 2015.
Menu Audit Tool. Dietitian's Association of Australia. Dec 2016.
[/et_pb_text][/et_pb_column][/et_pb_row][/et_pb_section]