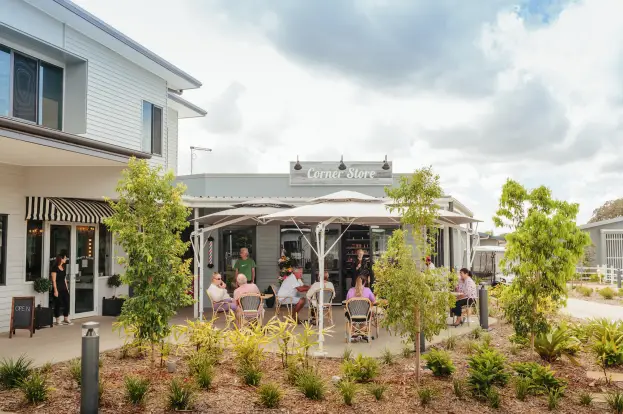 This article is part of our showcase of the 2019 Future of Ageing Awards. NewDirection at Bellmere won the Property and Design category.  
A seniors' MICRO TOWN® that allows residential aged care with independence has been credited with life-changing results for people with dementia.
The $30 million NewDirection at Bellmere in southeast Queensland, which opened in 2017, focuses on person-centred, innovative care provided in a small community of 17 multi-residential houses, a shop and services.
Residents live in standalone small-group homes along with a House Companion™, who provides overall care when needed along with help cleaning, cooking and budgeting.
The wife of a resident who moved from a secure dementia care facility into NewDirection Care described the change in his personal circumstances as amazing.
"There is no amount of words to describe the difference," she said.
"He has dignity again, he's got independence. They cater to his needs rather than him having to slot into a system. I know he is happy."
A MICRO TOWN®  with care
NewDirection Care at Bellmere offers aged care, including dementia care, in community-style surroundings.
Based on best-practice residential aged care industry research around Australia and internationally, the property features a tiny town centre with assisted living.
Each resident has their own room and ensuite within their own home, which also features a dining and living room, full kitchen and laundry.
There are no locked doors and people are free to walk around their residence and their community.
Seventeen houses of varying architecture line streets, gardens grow throughout the property and there is a MICRO TOWN® centre.
This hub includes a corner store, hairdresser, dentist and other visiting services, which are open to the broader public, maintaining an important link and vitality to the wider community.
Founder and chief executive officer Natasha Chadwick said residents are housed based on their like-mindedness and what they enjoy doing.
"Residents are placed in houses according to their lifestyle and who they are as individuals, and not according to their cognitive diagnosis," she said.
Care with freedom
NewDirection Care does not have carers in uniforms. Our unique House Companion™ support worker is instead a multi-skilled professional who assists with all aspects of care and living.
At meal times they sit with residents at the table. They allow freedom and autonomy in the small-group setting, something that is challenging in traditional aged care.
Through this model of care, residents have thrived.
"One of the most noticeable achievements is that our residents are happy and leading fulfilling lives," Ms Chadwick said.
"We are making a huge difference to their lives, demonstrating that diagnosis is not the end of their world."
The team experiences minimal sleepless night activity, generally only during the early transition period. Likewise, there is little or no reported afternoon change in behaviour, increased appetite and normal eating patterns, and clinically proven reductions in medications.
End-of-life care is also supported where loved ones can be onsite.
Residents such as John are well and content. "It's a happy home," he said. "Your meals are the same [as home], your ability to move and your freedom to move is the same."