In this timely post, the team at Australian healthcare cleaning manufacturer Whiteley, provide an overview of how to best approach cleaning during an outbreak, including extra precautions with respect to linen.
Aged care facilities are susceptible to outbreaks of dangerous pathogens. Whilst SARS-CoV-2 [COVID-19] has been in the headlines recently, Norovirus is one of the more common outbreaks with serious risk to aged care residents.
Having products formulated with buffered peracetic acid and surfactants available is strongly recommended. They provide disinfection efficacy and remove Dry Surface Biofilm, crucial within healthcare environments.
Surfex®, the world's first proven Dry Surface Biofilm remover, is a leader in this category. It is known as the all-around performer within aged care facilities as it offers "all in one" cleaning and disinfection of surfaces. Surfex® is an exceptional product for dealing with outbreaks.
With its unique formula of buffered peracetic acid plus surfactants, it provides the disinfection efficacy and Dry Surface Biofilm removal required. It's approved for use on environmental surfaces and non-critical medical devices.
Managing an outbreak
Containing an outbreak quickly is critical, so have highly effective products on hand. Surfex®is used to clean and disinfect non-critical medical devices including bed frames, stethoscopes, IV stands and high-touch areas such as door handles and benchtops. It requires a 5-minute contact time at 20°C for disinfection of most bacteria, fungi or viruses.
A 10-minute contact time is required for Mycobacteria [TB] or if there is a known outbreak of Clostridium difficile. It kills SARS-CoV-2 in 60 seconds.
Surfex® is a popular "go-to" product because it;
Reduces bacterial loading within Dry Surface Biofilm. Is effective in reducing MDROs.
Allows 'all in one' cleaning and disinfecting of surfaces. Offers significantly superior disinfection versus chlorine.
A patented colour-coded indicator system shows when it is ready to use.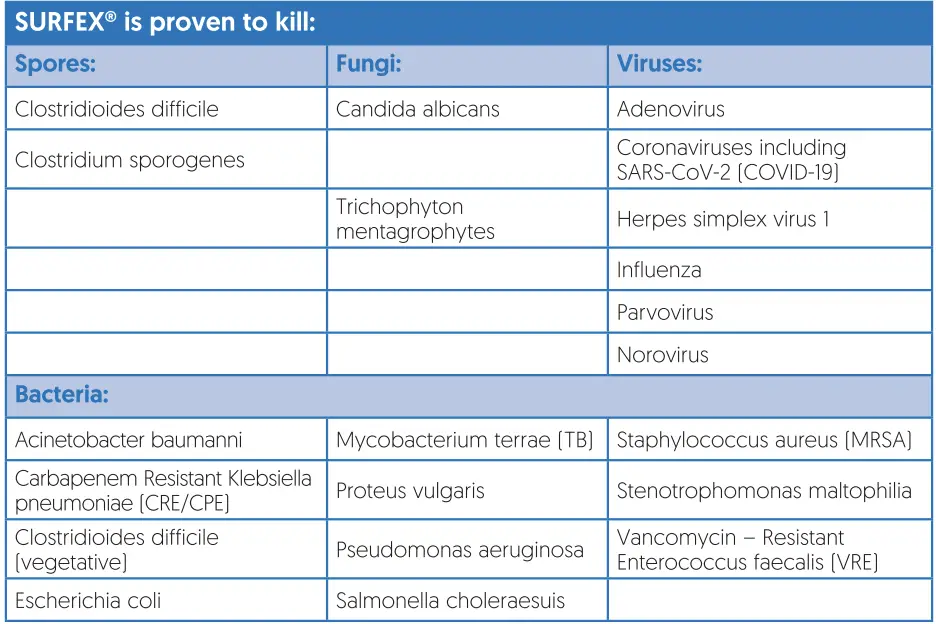 Outbreak best practice
1. Clean the rooms of all the unaffected residents first
Clean with a detergent-based product i.e. Speedy Clean Wipes or Tempo HD from Whiteley. Then disinfect these areas using Surfex®. It requires direct contact with surfaces for a minimum of 5 minutes [10 minutes for contamination with Clostridium difficile and Mycobacteria [TB].
2. Next clean the potentially contaminated areas in the facility
Clean with a detergent-based product. This is likely to include toilets, showers, dirty utility/pan rooms, chairs, bedside tables, floors, handles, handrails, phones and any surfaces that are exposed to regular hand contact. It is important to note that gross soiling such as faeces or vomit may inactivate disinfectants, so prior cleaning is essential. Then disinfect these areas using Surfex®. See contact times in point 1 above.
3. Focus on disinfecting hard surfaces and high touch points
This includes handrails, door handles, taps and light switches using Surfex® twice daily during an outbreak.
4. Bathroom care
Bathrooms/toilets should be cleaned twice daily and when visible soiling occurs. Shower chairs should be cleaned with Surfex® between each resident's use during an outbreak.
Safer linen during outbreaks
As extra precaution linen can be soaked in a 5L bucket of Surfex® made up as per instructions. Soak for a minimum of 5 minutes to kill Norovirus. After soaking ring out linens, rinse and ring out again before placing them into the washing machine.