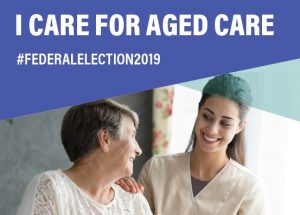 LASA has launched an election campaign highlighting the need for additional funding for residential care and calling for legislated maximum waiting times for home care packages.
Under the slogan, 'I Care For Aged Care', the campaign seeks to engage politicians on the key issues it claims are impacting the provision of quality and safety in aged care.
In announcing the campaign at LASA's Queensland state conference on Wednesday, CEO Sean Rooney described it as being apolitical in nature and focused on "what the aged care sector is proud of, where we are concerned about the future, and how we would like all candidates and parties contesting the upcoming federal election to help."
"This campaign is about ensuring that older Australians can access the care they need, and that this care is adequately funded to reflect the actual costs of delivering high quality care and services, whilst we also attract and train high performing staff," Mr Rooney said.
A campaign booklet which outlines the key issues and proposes solutions urges politicians to "fix the human tragedy in home care by legislating reasonable home care wait times".
In addition to calling for the Aged Care Minister to be (re) elevated into Cabinet and for a national ageing well strategy, LASA says further investment into the aged care workforce is needed.
It highlights several solutions including a voluntary register for aged care workers that can be used by the sector in anticipation of a possible mandatory scheme being recommended by the Royal Commission; putting personal care workers on the priority list for skilled migration, particularly if mandatory qualifications are introduced; and providing an increase in pay to reflect these increased requirements on the condition that there is a commensurate increase in funding.
"Aged care matters because around 1.3 million older Australians receive some form of care or support. Aged care is a major employer, particularly in regional areas, with 366,000 staff employed in the sector, including clinicians, care workers and administrators," Mr Rooney said.
"We are accountable for our performance and do not shy away from our responsibility to deliver safe, quality care, with compassion, always. But we are constrained by the fact that funding has not kept pace with rising costs and the growing needs and expectations of older Australians."
Mr Rooney said making the system better should be a priority for all political parties and candidates.
"All Australians should tell their candidates at this election, 'I Care For Aged Care'," he said.