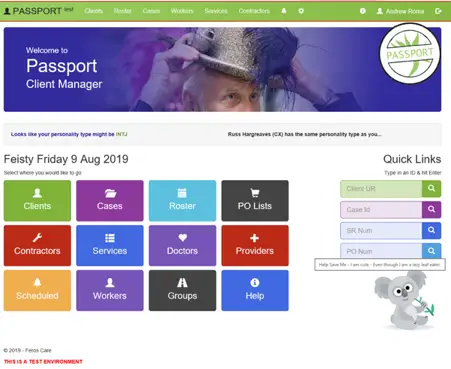 This article is part of our showcase of the 2019 Future of Ageing Awards. Feros Care was Highly Commended for its work in Supporting Independence.
Feros Care has launched the MyFeros portal – a seamless system in which seniors receiving funded supports at home can manage their own services (what, who and when), their budget, schedules and communication.
The 'Passport', where their portal information is accessed, is a lightning-fast system bringing every stream of data, intervention and advice relating to a client together on one platform.
Launched in January 2019, clients now have access to their own aged care journey, meticulously designed to be super senior-friendly from any screen device. 
Project Overview
The Feros Care IT team responded to complaints about the call centre by developing a sophisticated online service called the MyFeros Passport wherein clients and their families and carer could access all their information instantly.
In an Australian-first initiative, the Feros Care IT team then spent months configuring internal systems to securely link MyFeros portal to Google Assistant.
How it came together
Feedback from Feros Care's clients was that contacting the call centre every time they required information was inconvenient.
The IT team got to work and, after rigorous research, developed the user-friendly MyFeros portal.
During the trial of the MyFeros online portal in seniors' homes, the IT staff found another problem.
The inspiration to embrace voice-connected devices came when staff witnessed some seniors physically struggling with the screen and realised that the portal needed to be more inclusive, particularly for those with Parkinson's disease, vision, cognitive or dexterity impairments.
Voice command technology seemed to be the most advanced, sustainable solution. Having chosen Google Assistant as the platform, Feros' team of developers spent several months configuring internal systems to link the MyFeros portal with Google.
Using this technology, the client experience is enhanced by simple voice commands such as, "Who is my carer today?", "What services have I got today?"
With nothing available on the market, Feros developed 'Passport'. At first, this required a platform to capture every Feros interaction with its client. This gave each client an individual passport to their aged-care journey, accessible through MyFeros, their own screen-based portal. 
Over 24 months, a small team of two Feros developers and one tester racked up over 9,000 hours, writing 137,899 lines of code in the Passport ecosystem.
Having chosen the Google Assistant as the platform for voice command, Feros' team of developers spent several months developing systems that would ultimately link the MyFeros portal with Google Home devices.
The MyFeros portal has been replicated steadily amongst different senior client cohorts. The first roll-out was available to 934 Home Care Package clients receiving case-managed services and then adapted for a further 5,708 clients receiving Commonwealth Home Program and other services.
Those seniors struggling with the simplest of technology were supported by Feros staff and the system also allows for a culturally and linguistically diverse client-base as the voice technology translates into multiple languages.
The introduction of the portal's Passport across Feros gives support workers holistic visibility of the clients' information. This means better interdepartmental collaboration to support each client, timely and accurate services and a better experience for Feros' clients and staff.
Feros' incorporation of Google Home into its MyFeros initiative was the first time that Google has played a central operational role in an organisation's activities in any sector in Australia and was the catalyst for the technology giant to announce on 12 March 2019, a formal partnership with Feros for ongoing development work.
Outcomes
Since the launch of MyFeros portal in January 2019, the number of registered clients using it has grown by 450 per cent with an average of 15 new clients registering every week.

Feros Care's goal was to have 20 per cent take up from Home Care Package clients by July 2019. At 20th June, 38 per cent were accessing the services via the portal.
The innovations in this nomination have been developed for social impact, empowering seniors to make choices, be independent and connected, stay safe and live well at home.
Update: July 21, 2020 – MyFeros Portal now has 1000 users – https://insideageing.com.au/myferos-portal-now-has-1000-users/