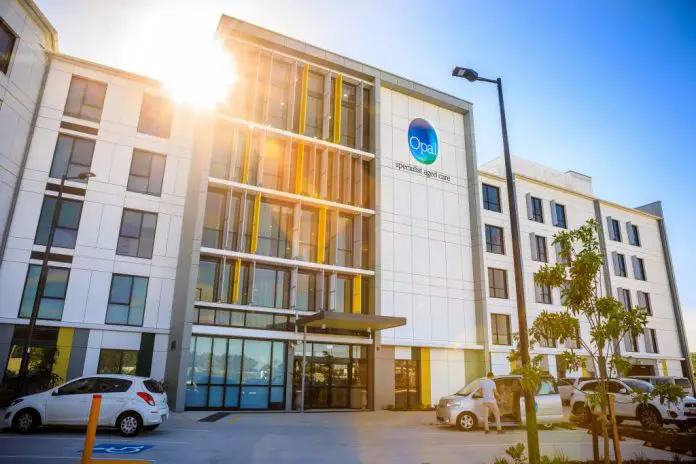 It's been a big week for Opal Aged Care, which opened its highly anticipated 151-bed aged care home on the Sunshine Coast and began development on a 146-bed home in the Moreton Bay Region.
Kawana Waters on the Sunshine Coast is an integral part of the Oceanside Health Hub development, sitting alongside the soon-to-be opened Sunshine Coast University Hospital, medical centres, and the upcoming Stockland Oceanside Retirement Village. Together this is one of Queensland's largest health infrastructure projects.
The $32 million dollar development specialises in dementia care and seeks to "reimagine residential care", Opal Aged Care Managing Director, Gary Barnier said.
"The idea around continuum of care is to give people the chance to live in their community for as long as they choose."
"The sum of all these parts provides a true continuum of care for local residents being able to access medical services, independent living options and when the time is right, Opal's specialist aged care services."
"As one of Australia's largest aged care providers, we need to take on the challenge of reimagining residential aged care in this country."
"We want Australians to see aged care as part of their communities' health care system, and not a one way street. Our innovation in services and lifestyle activities, along with our rehabilitation and physiotherapy services, focus on keeping our residents as active and healthy as possible," Mr Barnier told a local media outlet.
Alzheimer's Australia National President Graeme Samuel AC officially opened Opal Kawana Waters, said an integrated approach to innovation and training is critical in ensuring people get the best possible care.
"We all need to work together to address the impact of dementia – government, industry, health and aged care services," he said.
"We need innovative services that provide support for people with dementia, which help them remain connected with their community.
"We also need to provide the right training for staff caring for those living with dementia, which Opal has recognised, ensuring all staff in their homes are trained in delivering specialist dementia care through an education partnership with Alzheimer's Australia," Mr Samuels said.
The services on offer for residents of Kawana Waters include:
Exceptional care for residents including permanent, respite and dementia-specific care
'Memory support' wing providing specialist dementia care
All staff trained in delivering specialist dementia care through a national education partnership with Alzheimer's Australia
A Registered Nurse led care model, with nurses on-site at all times
Access to medical services including physiotherapy, pharmacy, podiatry, optometry and dental
The Opal Menu – home-style, nutritious comfort food freshly cooked on-site
A range of rooms offering singles, companion rooms and suites, some with balconies, and all with ensuites
A range of premium services including luxury linen, toiletries, dining options, TV and WIFI
Engaging social and recreational programs
Large communal living areas, dining rooms and outdoor gardens
Hairdressing salon and café
Located at the heart of the Oceanside Health Hub, adjacent to specialist medical services and surrounding the village with easy access to amenities including local shops and cafes
Opal's latest project in southern Queensland is a $34 million residential care home in North Lakes, which is part of the Moreton Bay Region.
The 146-bed facility is expected to open mid 2018, and features a four-storey building designed by award-winning architects Jackson Teece.
Clients will have a  choice of singles and companion rooms with ensuites, as well as a hairdressing salon and cafe.
There will also be a 16-bed specialist "Memory Support" wing, dedicated to providing specialist care for residents living with dementia.
[/et_pb_text][/et_pb_column][/et_pb_row][/et_pb_section]