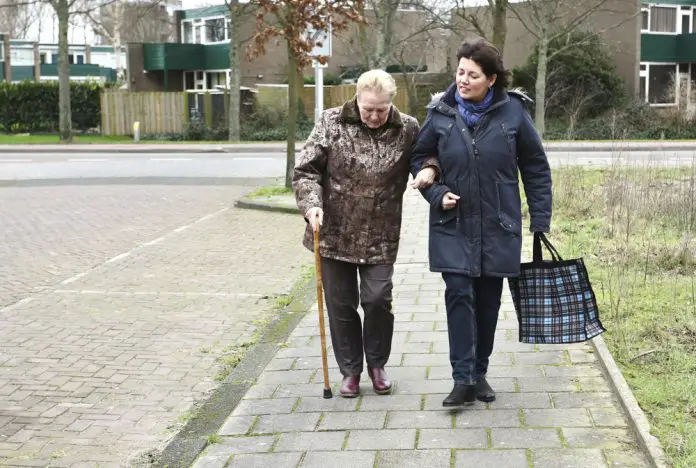 The complexities of managing visitors and freedoms during the COVID-19 pandemic has been highlighted by the national aged care watchdog, as Queensland facilities were allowed to welcome visitors.
The sunshine state's health authorities lifted the restrictions on non-essential visits into aged care homes in greater Brisbane on Friday.
This overturned the ban on non-exempted visitors that was in place from January 10 following confirmation of the first Australian case of locally acquired COVID-19 with the more contagious UK strain.
Australia has not had an active case of Covid-19 in aged care since September 26.
It follows case studies released by the Australian Aged Care Quality and Safety Commission that showed how providers, families and residents were dealing with the return to visits after COVID-19 lockdowns and outbreaks.
In one case, Jack, a man living in a regional town with mild dementia who loved taking half-hour walks around the block each morning, was stopped from doing his daily routine due to the national COVID-19 lockdown.
When public health restrictions were lifted, his centre continued to enforce a ban on him leaving the home under their service policy and also as they believed his condition had declined.
Following a complaint from his daughter and intervention from ACQSA they negotiated a plan to allow Jack to continue his walks. But they had to be accompanied for the first two weeks to ensure he was safe and well to do them.
"After two weeks they were all happy that he knew the route and was still alert to traffic, so he's now going for walks alone again," the report said.
"[His daughter] reported back to the Commission that Jack is now much happier, feels more settled and is eating well again."
Another case dealt with visitors and the time and duration of drop-ins.
Carol's daughter Sarah visited daily before the COVID-19 lockdown. She lies in a large residential aged care home, is healthy for her age and makes all her own decisions.
Her centre had experienced an outbreak in the months earlier, when four residents and five staff had become infected.
After it was able to re-open it had introduced a booking system to allow as many visitors for as many residents as possible under the restrictions of the "density quotient" rules.
Most jurisdictions continue to have limits on the number of people allowed in facilities per square metre.
It was also in the process of opening an outside visiting area to increase capacity and reduce risk.
Sarah had complained to ACQSA that she was not able to visit more than three times a week, sparking a review of its processes and procedures.
The Commission deemed the centre was "taking a balanced risk-based approach to visitor access".
"Now that Sarah understands the reasons for the visiting restrictions, she's willing to accept the current situation."
In a separate case, the provider policy was to confine residents to their rooms to isolate if they had left the facility.
Maria, who lives in a regional town where there were no cases of community transmission, had lots of friends at her centre and took part in all the activities.
So when she was told she would not be able to come from her room for 14 days after a doctor visit in a nearby town – knowing she had more medical appointments to come – she felt that was overly restrictive.
Her daughter Angela complained to ACQSA, which provided the centre with the latest Australian Health Protection Principal Committee guidelines.
After a negotiation it was deemed Maria would not have to isolate, but would be required to wear a mask outside the building, practise social distancing and wash her hands using a recommended technique.
"The Commission encourages the service to recognise and weigh all the risks on both sides: on one hand the COVID-19 risks for its other residents and staff, and on the other hand, the potential negative impact on the individual resident in isolation," it said.
The final case study about Jana deals with the challenges of visit at the end of life.
Three adult children wanted to be able to visit their mother every day for two hours each, who was receiving palliative treatment but was not deemed end-of-life – where doctors expect death within 14 days.
The centre was only just emerging from an outbreak. It allowed on 45 minutes daily and the adult son was agitated, upset, and according to the centre, was not following their infection control measures.
They discussed the matter with ACQSA and the centre, who agreed to increase visits to one hour per visit.
Then, Jana had another stroke and was deemed to be end-of-life. The service removed visiting restrictions on the condition they complied with the control hygiene.
Jana died three days later.
"This was a complex case to resolve in part because terms like end-of-life can be understood differently by a clinician and a family member without a clinical background," it said.
"Her family's uncertainty about the meaning of the term, when combined with their emotional distress at their mother's decline, and the essential COVID-19 restrictions, made finding a mutually acceptable resolution very challenging."