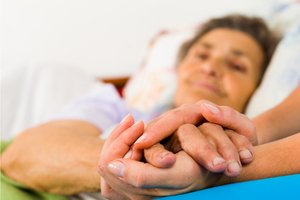 GPs and general practice managers will be targeted in the next stage of HammondCare's $2 million Advance Project, which encourages conversations and planning about how and where people wish to die.
Following a successful evaluation of the first stage of the project, which targeted general practice nurses, the program is being expanded nationally to GPs and general practice managers.
A new website and updated toolkit of resources were launched last week by HammondCare's Director of Centre for Learning and Research in Palliative Care, Professor Josephine Clayton, who said extending the program for GPs and practice managers was a common sense next step for the program.
"GPs are in an ideal position to start advance care planning discussions with their patients because of their trusted relationship. They have an essential role in providing palliative care to patients and their families, and starting this conversation early," Prof Clayton said.
The new Advance Project website and toolkit of resources provides free training about initiating conversations on advance care planning and assessing patients' and carers' palliative and supportive care needs. It also includes free booklets for patients.
Prof Clayton said the first stage of the Advance Project implemented last year, which trained over 500 general practice nurses nationally, had received a positive evaluation.
"Evidence from the evaluation shows nurses' knowledge was increased, their confidence grew and their comfort in initiating these conversations also greatly increased. Nurses reported positive impacts for patients and their carers following implementation of the resources in their clinical practice," Prof Clayton said.
"However a barrier identified in the evaluation was that conversations about advance care planning and palliative care were hard for nurses to routinely initiate in their practice without the support and involvement of the GP and practice managers."
So what we have provided now is some very practical resources for GPs and nurses to work together to make it easier for them as a team to have a conversation with their patients about how and where they want to die. Importantly, it is also aiming for people to have this conversation earlier, so they are not dictated by a crisis, which may limit their choices."
The updated resources in the Advance Project include:
• Online learning resources such as eLearning and support for implementing the resources into general practice.
• Individual tele-mentoring for participating clinicians from across Australia.
• Grants and train-the-trainer support for champion networks to deliver face-to-face training and to support implementation of the model into clinical practice.
The Advance Project is available free of charge to all GPs, nurses working in general practice and practice managers throughout Australia. For more information visit: www.theadvanceproject.com.au
The project is funded by the Australian Government Department of Health, with training endorsed by the Australian Primary Health Care Nurses Association (APNA) and accredited by the Royal Australian College of General Practitioners (RACGP) and the Australian College of Rural and Remote Medicine (ACRRM), and delivered by a national consortium led by HammondCare. The consortium includes University of Sydney, Flinders University (CareSearch), Austin Health (Advance Care Planning Australia), University of Queensland, University of Technology Sydney, University of Wollongong and La Trobe University.