For many Australians, COVID-19 is the only pandemic we have ever experienced. We've all grappled with uncertainty and fear about the future, as well as a genuine worry that things may never go back to normal. This is especially true for seniors, who are also dealing with isolation and an increased risk rate of contracting the virus.
Aged-care facilities have become a battleground during the pandemic, as experts come together to try and protect vulnerable residents. Unfortunately, outbreaks have occurred, and while the curve has flattened, the battle against COVID-19 is far from over.
So, how can we improve our cleaning procedures to cope with the increased risks presented by COVID-19?
Understanding How Viruses Spread
COVID-19 is primarily spread via minute droplets. An affected person sneezes or coughs and the droplets travel to infect surfaces and people standing close nearby. Aged-care facilities have been instructed to increase their cleaning and disinfection schedules to minimise the risk of transmission. This has been somewhat effective, but these levels of cleaning and disinfection need to be continually maintained.
COVID-19 is a virus and viruses can mutate. Like the common cold, COVID-19 or its mutations may be with us forever, so, the thorough cleaning and disinfection methodologies we have developed during COVID-19 must be the 'new normal', not a temporary fix.
So, what will the 'new normal' methodology of cleaning and disinfection procedures look like?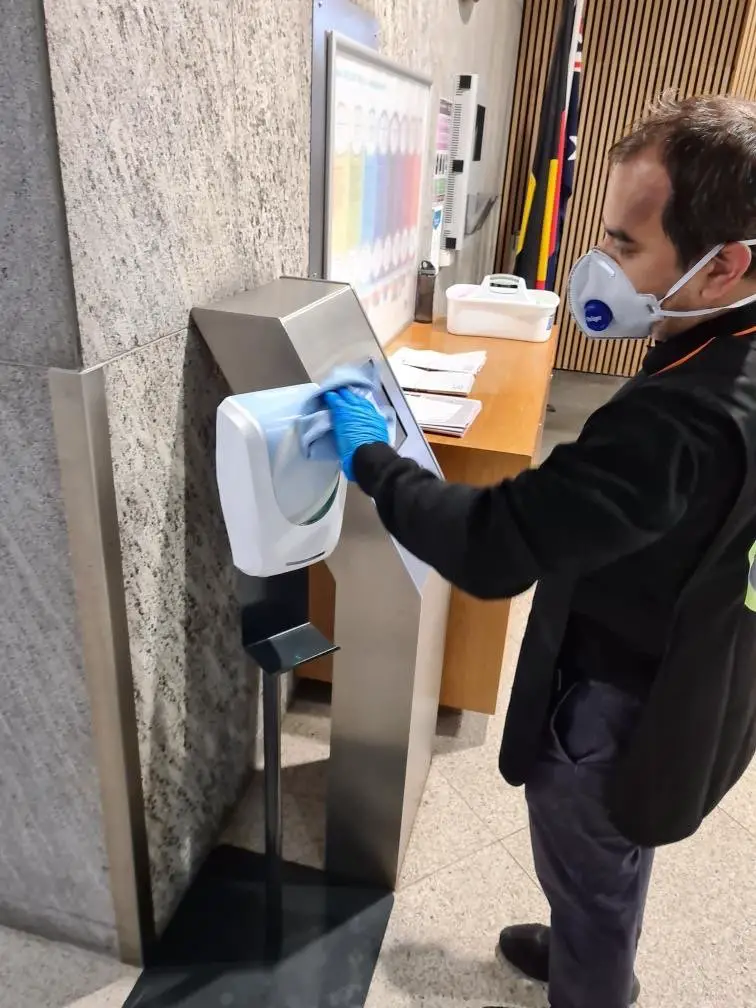 New Procedures For Protecting Residents
Educating Residents
Good cleaning procedures can be easily undone if residents, visitors or suppliers aren't practising good personal hygiene. So, education is the first step. Residential managers should display educational posters and have them visible to act as reminders for existing residents or as training aids for new residents, visitors and suppliers. There should also be an ample hand sanitiser around the residences.
Maintaining Frequency Of Cleans
Regular cleaning and disinfecting, especially around high touch points and patient rooms, will need to be continued. But, this mustn't disrupt the privacy of the residents or interfere with how they interact with the facility. So, carefully schedule cleans to ensure they are done either side of times of high use, rather than during these periods.
Pivoting To Single-Use Items
Single-use doesn't mean disposable, but items need to be changed and washed or disposed of after each use. A use counts as one clean of a high-touch point, a resident's room or a specific surface. Going single-use will drastically reduce the likelihood of cross-contamination.
PPE Is Now Part Of The Uniform
Gloves, masks and other protective equipment are no longer optional parts of the uniform. They are mandatory items in protecting residents, staff and cleaners against infection. PPE ideally needs to be single-use, and gloves especially should be changed after every task.
Focusing On Cleaner Training And Retention
The Post-COVID-19 context requires highly trained cleaners. High standards need to be maintained, so an experienced and stable workforce is vital. Aged-care facilities that invest  in quality cleaning teams will be well-placed to keep residents safe.
Using Technology To Make Cleaning Procedures More Efficient
People used to say, 'you don't need a computer to clean!' Thankfully, the industry has moved on from that attitude, and technology has been created to make cleaning more effective. Aged-care facilities or their service providers should invest in technology that makes it easier to respond to unplanned events and strategise the best, most effective cleaning routes.
This guest post was written by Jim Bottomley who has worked in facilities management for over 30 years. He has specialised in understanding how viruses mutate and spread through facilities and in designing processes and procedures for mitigating risk. He is currently the General Manager for the Health and Precincts Division at BIC Services.